Sometimes you just need to fry something. It's a necessary evil.
Sure frying isn't good for you, well neither is picking your nose, but I see people do that all the time. We will call it even.
I needed to get my brain working overtime because I wanted to created a recipe for the Johnsonville Wake Up To Johnsonville Photo Recipe Contest.
My husband might have had a little influence on this one. He always comes up with some whacked out food ideas. He wanted these on a stick, but the sausage links are just too thin for that, so I decided on the balls.
They are mighty tasty, mighty tasty indeed! Certainly not your everyday breakfast meal, but they sure are a nice delight every once in a while….you know, when you need a little oil in your life.
You can enter the Johnsonville Wake Up To Johnsonville Contest too.
Go to their Facebook Page, upload your Johnsonville Sausage Breakfast creation and you will be entered for the grand prize of an 11 piece set of professional cookware from ScanPan and a years supply of Johnsonville Sausage. Hurry, Contest ends May 13th!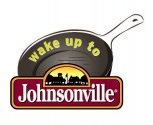 .

Author:
Leslie Green- The Hungry Housewife
Recipe type:
breakfast,appetizer
Prep time:
Cook time:
Total time:
Pancake Sausage Bites. Cooked sausage balls delightfully fried in a pancake coating served with a cream maple dipping sauce.
Ingredients
Peanut Oil or Canola Oil for frying
1 package Johnsonville Sausage Patties(8 ct), original recipe
Batter
1½ cups Bisquick
1 tablespoon Sugar
¼ teaspoon Cinnamon
½ teaspoon Vanilla Extract
1 Egg
½ cup Milk + 2 Tablespoons
Syrup
1 /2 cup Pure Maple Syrup
1 tablespoon Butter
2 tablespoon Heavy cream
Instructions
Place about 2" oil in a sauce pan and heat to 350
Place the sausage patties in a medium bowl.
Break them up so they are no longer formed.
Reform into about 22 1½ teaspoon sized balls.
Place the sausage balls in a large skillet over medium heat and cook for about 15 minutes, turning often.
Remove and drain on a plate lined with paper towels.
In a medium bowl, mix together the bisquick ,sugar and cinnamon.
Whisk in the vanilla, egg and milk until smooth.
Pick up a cooked sausage ball with a toothpick and dip into the batter, completely cover the sausage with batter.
Carefully lower into the oil and fry for about 1- 1½ minutes or until golden brown.
Remove and drain on a paper towel lined plate
Creamy Maple Dipping Sauce
Pour the maple syrup into a small bowl and add the butter.
Microwave for about 45 seconds.
Remove and stir to incorporate the syrup and butter.
Add the heavy cream and stir.