I don't know what I did without this stuff!
I have the kind of hair that really can't decide what it wants to do. It's kinda straight and kinda fuzzy, some curl in random places, it's a hot mess really.
I certainly don't have the kind of hair that I can let dry naturally. Think homeless person.
And to make matters worse, it's super fine and totally greasy. I have have have to wash my hair EVERYDAY or it looks like I haven't washed it in two weeks.
When I get out of the shower, I use one of those big ol' pick combs and one squirt of Moroccan Oil. I love the smell and it allows me to glide the comb through my hair without ripping out the last two hairs on my head.
It gives my hair a nice shine and tames down the flyways without making my hair oily AT ALL.
Love love love Moroccan Oil
***Remember Favorite Things Thursdays are NOT sponsored posts. Just things I love***
And the winner of my I Can't Believe It's Not Butter Giveaway is…..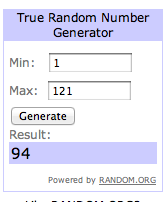 Congrats Heather! Contact me within 72 hours to claim your prize.