I love when I find a good food product, like a really good food product.
A couple of years ago, I was desperate for blueberry pancakes, but blueberry season was over. I wasn't going to pay $6 for a tiny 1/2 pint of tasteless blueberries. As I strolled down the frozen veggie/fruit section, I saw a new product in my store (those always catch my eye).
So I picked up the blue bag of blueberries and brought them home. Not having much hope for them, as I am not a big fan of frozen fruit, I threw them into my pancake batter.
The strangest thing happened when I bit into my first bite. I was instantly transported back to a trip to Cape Cod when I was a little girl. I am serious. One bite and all the memories flooded back. I remember picking blueberries off of wild blueberry bushes and literally eating them till we were blue in the face.
The minute I was done shoving my face with delicious blueberry pancakes, I looked up the company online and wrote them a letter. I gushed about how amazing I thought their blueberries were and them memories they evoked. The wrote a very nice note back and told me that they get letters often get those same types of letters!
So my Favorite Things for Favorite Things Thursday this week is obviously these delightful wild blueberries from Wyman's

***Remember Favorite Things Thursdays are NOT sponsored posts. Just things I love***
And onto the winner of my Hamilton Beach Juice Extractor Giveaway….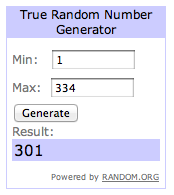 Congrats Jamie! Contact me in 72 hours to claim your JUICER!!!!!