Did you know I LOVE being a food blogger. It gives me a voice. A voice to tell people about wonderful things.
Companies look to me to get the word out about wonderful promotions that you might not otherwise know about.
Johnsonville Sausage invited me to be a part of their Johnsonville Kitchens Community Blogging Panel and to be an ambassador for their products. You know I jumped at the opportunity. I mean, who doesn't love Johnsonville sausage? ( well, maybe vegetarians). Did you know they have 10 different varieties of Italian Sausage? You can view them all here.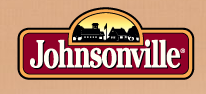 Are you creative with sausage? Do you have a mouth watering recipe that incorporates Johnsonville Italian Sausage?

Go and enter the Johnsonville Italian Inspiration Recipe Contest. It's a photo recipe contest, so make sure your photos are decent. The prize is a culinary trip for 2 to Abruzzo, Italy! So run on over to their facebook page and enter!
Johnsonville sent me some goodies to create a recipe. I had the hardest times trying to choose just one of them that was swirling in my mind.
I went with easy. Baseball has been keeping me busy, so time doesn't seem to be on my side these days.
So here is my easy recipe that incorporates the delicious Johnsonville Italian 4 Cheese sausage.
You know why I choose the 4 cheese variety? When I was a kid, I loved loved loved those hot dogs with the "cheese" inside them. Oh, man I loved those. I used to eat them uncooked. The thought makes my stomach turn these days.
Anyhooooo, here is the recipe. Everyone enjoyed it. It's easy, full of flavor and it fills you up!

Creamy Pesto Pasta with 4 cheese Italian Sausage
Author:
Leslie Green - The Hungry Housewife
Prep time:
Cook time:
Total time:
An easy creamy pesto pasta make with 4 cheese Italian sausage.
Ingredients
16 oz Rigatoni, cooked to package directions, reserve ¾ cup cooked pasta water
1 pck. Johnsonville 4 Cheese Italian Sausage
15 oz Ricotta Cheese
¼ cup + 1 tablespoon prepared jarred Pesto (5 tablespoons)
¼ cup Kraft Parmesan Cheese
5 Basil leaves, chopped
1 tablespoon Olive Oil
½ red onion, sliced thinly
1 pint Cherry Tomatoes
3 garlic cloves, minced
Salt
Pepper
Instructions
In a medium bowl, mix together the ricotta cheese, pesto,parmesan cheese,basil and pasta water. Set aside
In a large skillet with a lid, cook the sausage per package directions.
Remove the sausage and set aside. Do not clean out the skillet.
In the same skillet you cooked the sausage, add the olive oil and onions, cook over medium heat for 5 minutes, until the onions become soft.
Add the tomatoes and cook for an additional 5 minutes or until the tomatoes begin to pop.
Add the garlic and cook for 1 minute.
Slice the sausage into medallions and add to skillet with the onions, tomatoes and garlic.
Add the cooked pasta and ricotta mixture. Mix together.
Sat and pepper to your desired taste.
Notes
If the sauce is too thick, you can always add a bit more water.