If you follow me on twitter, Facebook or Instagram, you will know I have gone CRAZY for juicing.
No, not pour juice from a store bought bottle. Making my own healthy juices from a juicing machine or juice extractor! I am addicted I tell you. I actually crave it. I am not sure if it's my body telling me I need more nutrients or I am just in love with all of the flavor combinations I come up with.
I sent out an APB on twitter asking everyone about juicing and the types of juicers they used and the powers to be must have been listening because Hamilton Beach rocked my world when they sent me their newest Juice Extractor, The Big Mouth Juice Extractor.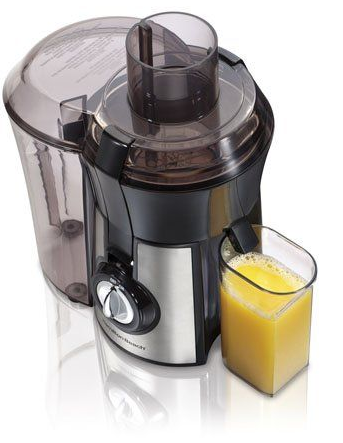 When the package arrived, I squealed like a little pig(yes that is a reference to my weight) in excitement. The only thing I had to juice was some clementines.
There was no assembly required, I just had to take some tape off the machine and wash it.
I put a plastic garbage bag into the large clear pulp bin for easy clean up. I peeled the clementines ( you should always peel citrus before putting it in the juicer), and threw them in the HUGE food shoot and in like 3 seconds I had delicious juice.
Clean up took a few minutes. You have to scrub the blade/screen with a little brush that is provided for you. It's quite easy. I place my juice in the fridge while I clean the machine. You want to make sure you clean it right away.
The  next day I ran out to the store and bought lots and lots of fresh fruit and veggies.
I can up with a delicious "Green Juice" that tasted delicious and filled me up. And you know what, mentally it made me feel great because I knew what I just put in my body…..a massive amount of healthy food.
Juicing couldn't be easier!
Just look at that beautiful color!!!!!

And Below is what went into my first juice.
Author:
Leslie Green - The Hungry Housewife
A healthy Green Juice
Ingredients
1 green apple
2 whole romaine lettuce leaves
2 kale leaves
2 whole stalks celery
large handful parsley, including stems
large handful spinach
¼ lemon,peeled
½" piece of ginger
¼ English cucumber
Instructions
Place all of the items into the juicer one at a time and push down with the food plunger.
Notes
Makes about 1 1 /2 cups juice Make sure all of your fruits and veggies are thoroughly washed.
Now I suppose you want to start juicing too??
Hamilton Beach is offering one of my readers their Big Mouth Juice Extractor (67608)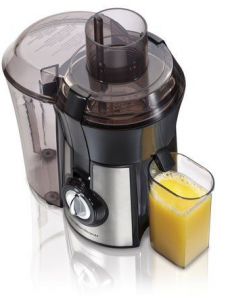 One winner will win the following
Hamilton Beach Big Mouth Juice Extractor
GIVEAWAY RULES ****CONTEST CLOSED*****
Contest ends Thursday March 1st 2012 at 9 am EST.
Winner will be chosen by Random Org.com
Contest open to US residents only.
Main Entry
(Required)
1.) What is your favorite juice?
(For EACH additional entry, you must leave a SEPARATE comment for EACH ADDITIONAL entry)
2.) Like THE HUNGRY HOUSEWIFE on Facebook
3.) Follow THE HUNGRY HOUSEWIFE on Twitter
4.) Tweet using this..Go visit @HungryHousewife for a Juice Extractor/Juice Machine GIVEAWAY @hamiltonbeach http://tinyurl.com/7ac68c5
5.) Post about this giveaway on your Facebook Page using this tag http://tinyurl.com/7ac68c5
6.) Subscribe to THE HUNGRY HOUSEWIFE via email.
7.) Like Hamilton Beach on Facebook
8.)Like Hamilton Beach on Twitter
And there you have it, a total of 8 entries for you.
Good Luck to you all!