I think it is a safe assumption to say that we all pretty much grew up with Campbell's Products.
I remember my Mom was kinda a soup rebel. She would use her cool electric can opener to open the can of classic Campbell's Chicken Noodle Soup and only mix it with a HALF a can of water instead of a whole can. Breakin the law, breaking the law.
I do the same to this day. Shame on me.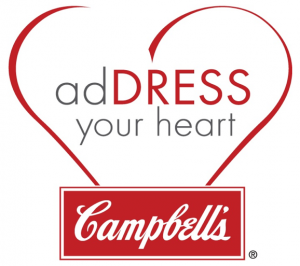 Did you know February is American Heart Month? The time to take care of your ticker.
Campbell's partnered with celebrity chef Richard Blais and  Campbell's Soup Master Thomas Griffiths.
Yeah, there is such thing as a "Soup Master", pretty nice job title.
Unfortunately, I am only know as the "Laundry Master", not a very glamourous title.
Ok, I am ranting.
Anyhooo, yes, Campbell's is concerned with our life pumpers.
So they teamed up with those 2 chefs for a heart healthy recipe challenge.
Chef Blais made Spicy BouilliaBlais
Chef Thomas Griffiths made Spiced Chicken and Green Bean Salad
Go like their Facebook page for delicious recipes, coupons and more .
While you are there vote for your favorite recipe!
And you know what is AWESOME??? For each vote Campbell's will make a donation of $1 to the American Heart Association's "Go Red for Women" Movement. So go vote, it's for a good cause!
I had every intention on making both recipes. But things have been crazy around here. My son started baseball and we have been pretty much living at the baseball feild prepping for the season opener. ~sigh~
One winner will win the following
Kitchen Aid 2 Speed Hand Blender
Microplane
Assorted Spices
Assorted Campbell's products, such as soup and v8 juices
Cute Campbell's Bag
GIVEAWAY RULES *******CONTEST CLOSED***********
Contest ends Thursday February 23th at 8:00 am est.
Winner will be chosen by Random Org.com
Contest open to anyone.
Main Entry
(Required)
1.) What is your favorite Campbell's Product?
(For EACH additional entry, you must leave a SEPARATE comment for EACH ADDITIONAL entry)
2.) Like THE HUNGRY HOUSEWIFE on Facebook
3.) Follow THE HUNGRY HOUSEWIFE on Twitter
4.) Tweet using this..Go visit http://tinyurl.com/7vcfv7l for a fun Campbell's Soup Giveaway (hand blender) @campbellkitchen @HungryHousewife
5.) Post about this giveaway on your Facebook Page using this tag http://tinyurl.com/7vcfv7l
6.) Subscribe to THE HUNGRY HOUSEWIFE via email.
7.) Like Campbell's Kitchen on Facebook
8.) Follow Campbell's Kitchen on Twitter 
And there you have it, a total of 8 entries for you.
*I was provided the above gift bag, however all opinions are 100% mine*