When you go to a party, say a Super Bowl Party, there is usually a table full of not so good for you food. The desserts are what get me. Not to say they aren't delicious, but they are not so good for your waistline.
I wanted to lighten things up a bit. These in no way are a substitute for a big ol scoop of apple crisp, but they completely satisfy my sweet tooth without adding 1000 calories. And since I used Wasa Whole Grain Crispbread, I got to sneak some extra fiber in my diet. Sneaky-Sneaky.
Not quite sure what to do with your Wasa crackers? Well Except munch on them for a delicious, healthy snack? Here is a link to a Wasas recipe page.
Oh and another thing, have you tried the Wasa Thin & Crispy Flatbread? The Rosemary flavor is AMAZING..and my kids live it too.

Apple Crisp Wasa Crackers
Author:
Leslie Green - The Hungry Housewife
Recipe type:
appetizer,dessert
A healthy alternative to an apple crisp made with Wasa Crackers.
Ingredients
3 tablespoons fat free cream cheese
1½ teaspoons brown sugar or Splenda Brown Sugar
2 Whole Grain Wasa Crackers
½ apple, sliced thin
4 pecans, toasted and chopped
Cinnamon for sprinkling
Instructions
In a small bowl, mix together the cream cheese and brown sugar.
Spread 1½ tablespoon of the cream cheese mixture over each cracker.
Evenly distribute the apples over the crackers.
Top each cracker with 2 pecans
Sprinkle with cinnamon.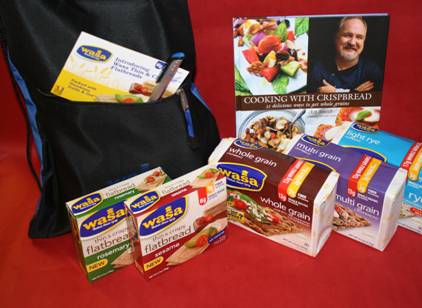 And the Giveaway…..
The fine folks at WASA are offering one of my readers a delicious and healthy giveaway.
One winner will win the following
Cooking with Crispbread cookbook
A sample of Wasa Products
Wasa pen and booklet
Wasa drawstring bag
One winner will win the above items
GIVEAWAY RULES
Contest ends Wednesday February 8th at 9 am est.
Winner will be chosen by Random Org.com
Main Entry
(Required)
1.) Giants or Patriots or neither?
(For EACH additional entry, you must leave a SEPARATE comment for EACH ADDITIONAL entry)
2.) Like THE HUNGRY HOUSEWIFE on Facebook
3.) Follow THE HUNGRY HOUSEWIFE on twitter
4.) Tweet using this..Go visit http://tinyurl.com/7aeuml4 @HungryHousewife for a WASA GIVEAWAY  from @wasa_na #WasAmazing
5.) Post about this giveaway on your Facebook Page using this tag with this link back to my site http://tinyurl.com/7aeuml4
6.) Subscribe to THE HUNGRY HOUSEWIFE via email.
7.) Like WASA on Twitter
8.)Like WASA on Facebook
9.)Send a tweet to Wasa_na and tell them how much you love them(include this hashtag #WasAmazing )
And there you have it, a total of 9 entries for you.
Contest open to US residents only.
Some more of my friends are using Was a too and they will be posting their recipes over the next few days! They are hosting giveaways too, so MORE CHANCES to win!!!Go check them out…
**I was not monetarily paid for this post. I was given samples of Wasa. All opinions are 100% mine