Pizza dough is for the birds. Don't get me wrong, I make pizza all the time for my kids using fresh pizza dough,but it's a pain, and all they want on the pizza is cheese. So they get plain ol boring cheese pizza with leftovers for their lunch.
For the hubby and I, I make Naan pizza. You get 2 pieces in a package, so thats one for me and one for him. I love it because I can make my own personal "pizza" with all the toppings I want and then a personalized one for the hubs.
Have you not seen Naan in your stores. Mine keeps it by the deli.
Stonefire is my favorite, it has perfect texture and it somes in 3 different flavors, Original,Garlic and Whole grain. Pick up some Naan next time you are at the store. You will be pleasantly surprised at the delicious-ness and the million things you can do with it!
I have been buying their brand for a while now, but they did send me some for free!! Wahhooo, the perks of being a food blogger.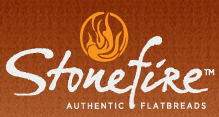 There is not much of a recipe, just throw what you like on your Naan. And throw it in a 400 degree oven until the cheese melts. Below is the recipe for my Naan Pizza

Flatbread Naan White Pizza
Author:
Leslie Green - The Hungry Housewife
Prep time:
Cook time:
Total time:
Nann pizza
Ingredients
1 piece Naan
1 teaspoon extra virgin olive oil
⅓ cup ricotta cheese
pinch coarse Kosher salt
Pinch pepper
¼ teaspoon chopped rosemary
Onions, grilled
Cherry tomatoes, sliced in half and grilled
¼ cup mozzarella cheese, shredded
¼ cup fresh mozzarella pearls
2 tablespoons fresh basil, chopped
Instructions
Preheat the oven to 400.
Brush the Naan with the olive oil.
In a small bowl, mix together the ricotta cheese, salt, pepper and rosemary.
Spread the ricotta mixture over the Naan.
Top the pizza with the shredded mozzarella, onions, tomatoes, mozzarella pearls and basil.
Place on a baking sheet and bake for about 10 minutes or until the cheese is melted.