I never claimed not be to strange.I even have strange taste buds. They like salty/sweet things. And normally those salt/sweet cravings can be resolved by eating potato chips with chocolate or peanut butter and chocolate. So the peanut butter, Nutella, potato chip Panini was born. Ohhh, stop it! You know you wanna try it.
Eat it with a big ole' glass of milk and all of your PMS symptoms will go away.
It's ok you can still make this even if you dont have a Panini Maker…I don't.
I take my handy-dandy grill pan, put it over my burner. Then I take my heavy cast iron skillet and put some foil on the bottom. I then throw my tea pot on top to balance out the skillet. And there you have it..the poor folks Panini Press!
Jif peanut butter…oh how I love thee. What's the saying? "Choosy Moms choose Jif." I suppose I am a choosy Mom.
Ohhhh, and take a bite and watch all of the yummy warm Jif Peanut Butter ooze out.

RECIPE UNDER THE GIVEAWAY.
And you know what else I love? A company that cares about children's education. Jif is having a delicious recipe contest. "The most creative peanut butter sandwich contest"
This year, the Jif® Most Creative Peanut Butter Sandwich Contest provides the perfect opportunity for families to stir-up some fun at home by getting creative in the kitchen! Not only is involving kids in preparing mealtime is a great way to spend quality family time, this contest encourages kids to experiment with new cuisines, ingredients and flavor combinations. One creative kid can earn a $25,000 college fund –and in honor of its tenth anniversary – Jif is adding $10,000 in educational prizes. Visit www.jif.com and www.jifenespanol.com through October 12 to enter and for official rules.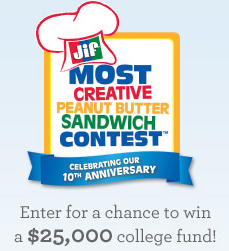 Oh and of coarse, Jif wants to offer ONE of my readers a VERY cool prize pack, including a AMAZON KINDLE!!!!
Each Jif prize package includes:
Jif Creamy Peanut Butter (18 oz. jar)
Jif To Go Creamy Peanut Butter

3-pack (1.5 oz. cups)
8-pack (1.5 oz. cups)

Amazon Kindle
$20 Amazon gift card for Kindle books
Jif sport bag
School supplies
GIVEAWAY RULES CONTEST CLOSED
One of my readers will receive the above prize pack/
Main Entry
(Required)
1.) Tell me your favorite way to use peanut butter.
Additional Entries
(For EACH additional entry, you must leave a SEPARATE comment for EACH ADDITIONAL entry)
2.) Like THE HUNGRY HOUSEWIFE on Facebook
3.) Follow THE HUNGRY HOUSEWIFE on twitter
4.) Tweet using this..Go visit http://tinyurl.com/3nykpcj @HungryHousewife for an AWESOME Jif Giveaway including an AMAZON KINDLE
5.) Post about this giveaway on your Facebook Page using this tag..http://tinyurl.com/3nykpcj
6.) Subscribe to THE HUNGRY HOUSEWIFE via email.
7.) Like Jif on Facebook
And there you have it, a total of 7 entries for you.
Contest ends Thursday October 6th at 9 pm est CONTEST CLOSED
Winner will be chosen by Random.org
Winner MUST CONTACT ME within 72 business hours of winning or another winner will be chosen(NO EXCEPTIONS)
Contest open to US resident only.
*Giveaway sponsored by Jif. Opinions are mine. I was not monetarily paid for this post.

Peanut Butter,Nutella,Potato Chip Panini
Author:
Leslie Green - The Hungry Housewife
Prep time:
Cook time:
Total time:
Ingredients
1 4" piece of French Bread, sliced in half horizontally
1 tablespoon Jif Peanut Butter
⅓ tablespoon chocolate hazelnut spread, such as Nutella.
6 sturdy potato chips, such as Ruffles
1 teaspoon butter, softened
Instructions
Preheat you "Panini Press"
Spread the Jif peanut butter on one side of the bread.
Spread the Nutella on the other piece of bread.
Place the potato chips onto of either the peanut butter or Nutella.
Assemble the sandwich.
Spread the softened butter on both sides of the outside of the bread.
Place on the "panini press" and grill for 3-4 minutes on each side.
Notes
This sandwich is equally as good with Cheez-Itz!!!!