Ahhh yes, BlogHer Food was a few weeks ago and I still have not posted about it yet. You can call me a slacker, it's totally fine.
It all began with my 7 hour solo car ride to Atlanta. Thank goodness for Cosmo Radio on XM/Sirus radio. I love love love Wake up with Taylor. Anyone else listen to it?
I met up with my new friends Susan of Doughmesstic ( my roommate) and Brandi of Bran Appetit. We hosted a HUGE(that is not an understatement) party at the Hard Rock Cafe rightfully name ROCKHER. We spend hours and hours filling up swag bags for ALL of our attendees.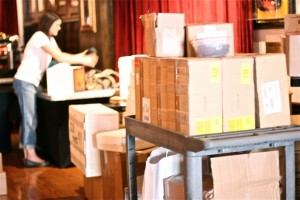 Lots and lots of spoons tables. A HUGE THANKS to all of our wonderful sponsors. A full list of them can be seen here and another great list HERE. With out you, our party would not have been such a big success!
I sat at the check in table all night long. We had a steady line out the door the whole night. I obviously did not get to take any pictures. Spices Bites took some good ones and so did Danicas Daily
Friday was the first day of the conference. I learned a lot and met some lovely ladies.
Below are the only 2 pictures of me in existence from the whole weekend I do believe. I was a bad girl in the picture taking dept.
The first photo is of me and Jenny from Picky Palate. We both loved our cardigans. It was like a Mr. Rodgers festival with the two of us.
The next photo is from breakfast on day one..from left to right..Me, Jennifer-Savoring The Thyme, Diane-Created by Diane, Shari-Tickled Red, Susan-She's Becoming DoughMesstic, Carrie-Fields of Cake, Farihah-Spices Bites and Brandi- Bran Appetit
On Friday night Susan invited about 18 of us girls to Dinner at Ray's in the City. Hop on over to her blog to read all about it.
On Sat. Susan invited me to a nice little shopping Spree at Home Goods. Brandi took some good photos of our fun trip. I love love love Home Goods.
All in all it was a fun trip. I was EXHAUSTED! It was wonderful being around so many people with the same interest..FOOD and FOOD BLOGS.  I met sooooo many sweet people. Too many to list!