I know I was supposed to pick the winner tonight at 9 pm, but you see, I am dealing with "Operation Puke Fest" here at the home-front.
Yep..Pukefest, you haven't heard about it? It's superfun.
It's when both of your kids, in the middle of the night, start tossing their
Five Guys..cookies simultaneously.
A great time to be had by all.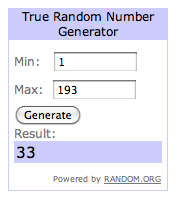 Congratulations RED..you have 72 business hours to contact me or another winner will be picked.