Ohhh lord. What did I get myself into?
Back in November a few friends had a brilliant idea of signing up for the NYC Marathon to on behalf of a very close family friend who has battled Cancer.
That was back in November. Reading about the NYC Marathon..they get over 100,000 applications and only about 6% of those applicants are chosen by lottery. Never in a million years would I have thought my number would have been picked out of their lottery hat.
Yep, I got accepted to run the NYC Marathon.
The longest I have ever ran was 8 miles. EIGHT miles. ummm, do I need to remind you that a marathon is 26.2 miles?
A chubby foodie running a marathon? I suppose so. It has been on my bucket list. But OMG, I never thought it would become a reality. How am I going to do this??
Sooooooo, does anyone have any training tips for me? This girl needs all the help she can get.
What to wear?? I am thinking this…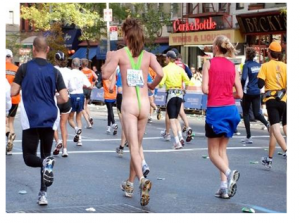 And I am quite certain I will look like this after the race..