My boy turned 8 on April fools day. So sad, they really do grow up fast.
I gave him the option of going to the Fort Wilderness Resort and Disney, or have a birthday party.
He was on the Disney train for a while, but changed his mind. Damn. I was really hoping for the Disney trip. Disney='s less work for me to do and no fancy cake to make.
So 15 large pizzas ( Pizza Hut was $35 cheaper than Dominos..thats HUGE) bunch of fruit, a soccer ball cake and about 50 people later..I AM DONE DONE DONE!
Here is the cute cake I made for him.
Vanilla 10″ bottom with strawberry filling. Chocolate 6″ top with strawberry filling. Buttercream Frosting.
Fondant soccer balls. The Soccer balls actually popping out of the top are balls from the party store ( I was not that ambitious). I think it turned out adorable!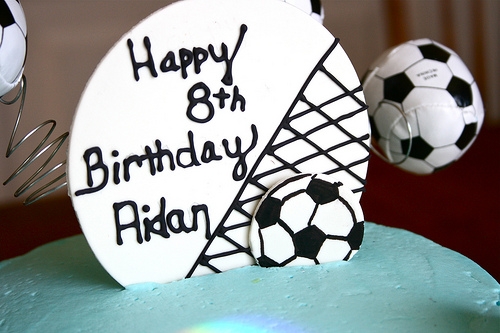 And the winners of the
Rocco Dispirito Cookbooks are
#80..Anonymous..Andrea D
Congrats to you all! Please email me with your mailing addresses!