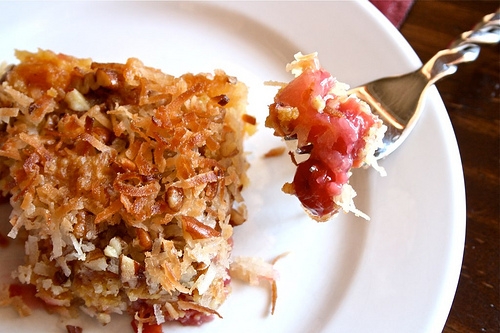 Cherry Pineapple Surprise a.k.a dump cake.
My Mom used to make dump cake all the time. I think that is where my love of canned cherry pie filling came from. I don't normally keep pie filling on hand, probably because I know I am nasty and I will, in a weak moment, pop the can open and eat it straight. WHAT? Don't look at me like that.
The fine folks at Lucky Leaf are very good to me. They sent me some more pie filling. Cherry, my favorite. Did you know that Lucky Leaf Pie filling does not have any of that high fructose corn yuck in it?
Nope it doesn't!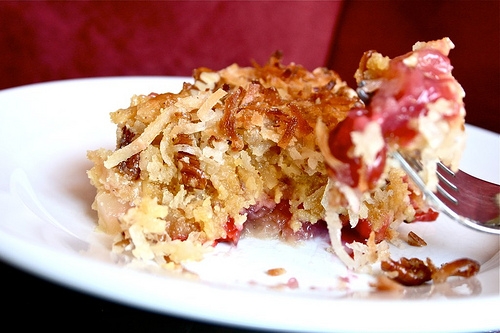 The recipe they sent along with the cherry pie filling was Cherry Pineapple Surprise. Umm-yum.
Lucky Leaf has a BUNCH of recipes on their site. So if you ever need any inspiration on what to do with your pie filling click here.
This recipes tastes like my childhood!
Like any dump cake recipe, it is best eaten when completely cooled. I have the patients of a gnat ( do gnats even have patients? Hmm, sounded good), so I ate it when it was still warm. It was like slop. It needs time to set up.
Also, if you do easter dinner. Check out this recipe for a yummy Maple Citrus Ham Glaze using Lucky Leaf Apple Sauce.
LUCKY LEAF CHERRY PINEAPPLE SURPRISE
Printer Friendly Version
1 can (20 0z) crushed pineapple (do not drain)
1 box (18.25oz) yellow cake mix (the kind without the pudding mix)
1 can (21oz) Lucky Leaf Premium Cherry Pie Filling
1 cup melted butter or margarine
1 bag (7 oz) shredded coconut
1 cup chopped nuts of choice..I used pecans
Preheat oven to 350.  Lightly grease a 9 x 13 baking dish. In the prepared baking dish, pour in the pineapple. Then cover the pineapple with the Lucky Leaf Premium Cherry Pie FIlling and spread around as much as possible. Sprinkle the dry cake mix evenly over the top. Pour the melted butter over the top, covering evenly. Top with the coconut and nuts. Bake for 50-60 minutes or until brown and bubbly on top. Half way through, I put some foil over the top so the coconut and nuts did not burn.
*Lucky Leaf provided me with product at no cost to me. I was not paid for my review and the opinions are mine.*