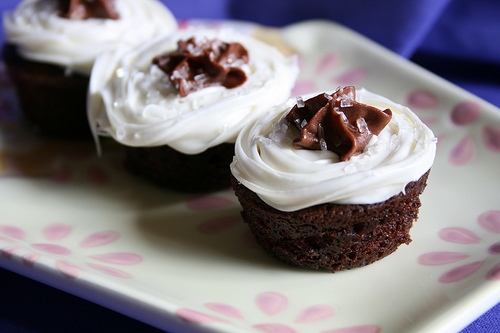 Ok, so these might uber creative. But I think my creative juices have been zapped for the week.
If you follow me on Facebook, you know what I mean.
These Pillsbury Brownie Minis are the best invention since toilet paper.
You have the option of making 6 brownie minis or 12 brownies. umm, hello..that is my cup of tea!
That way I can eat just 6 instead of 12!
The second best part..all you need is water.
And they are tasty little things.
No recipe needed for these cute little flowers.
Just cook 6 or 12 Pillsbury Brownie Minis according to the package directions.
Swirl the Pillsbury Easy Frost No Fuss frosting in Vanilla Dream over the top of the cooled brownie.
With the Pillsbury Easy Frost Frosting in Decedent Chocolate Fudge, place a small amount in the cented of the frosted brownie mini.
Sprinkle with some coarse sugar.