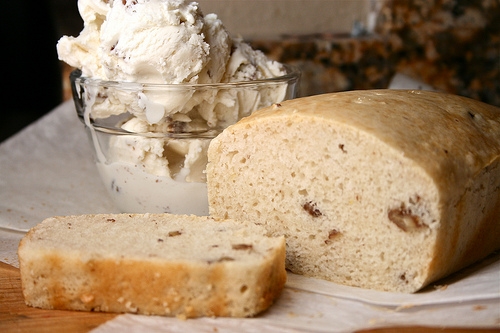 Yes, you heard me correct- ICE CREAM BREAD.
All is right in the world. Ice cream and self rising flour have made beautiful food love and made delicious babies. Perfectly soft bread babies.
The ice cream only slightly sweetens the bread and lends just a tiny bit of the flavor of the ice cream.
Heaven I tell you …HEAVEN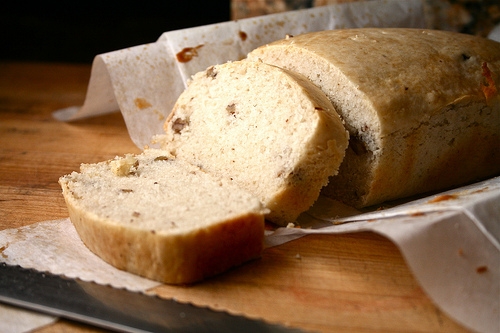 Seriously, you MUST stop what you are doing right now and make this. It takes about THREE minutes from the time you take your ice cream out of the freezer till the time that you pop it in the oven. So there are no excuses. You say you don't have any self-rising flour? No worries, you can make your own.
For every cup of flour  add  1 1/2 tsp baking powder and 1/2 tsp salt (sift together). There you go, now you have self-rising flour.
I used Butter Pecan Ice Cream, cause that's my fav,  but you can use whatever flavor you want.
Chocolate, strawberry, cookie dough…my head s spinning.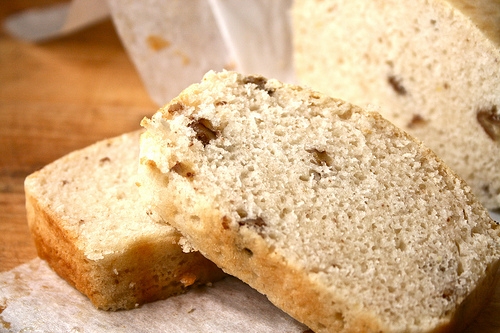 ICE CREAM BREAD
Printer Friendly Version
Makes One 8 x 4 loaf
2 Cups Ice Cream, any flavor, softened
1 1/2 cups Self-Rising Flour
Preheat your oven to 350. Spray and flour a 8 x 4 loaf pan, or line it with parchment paper.
In a medium bowl mix the ice cream and flour together until just combined.
Scoop into the loaf and and smooth out.
Bake for about 45 minutes or until a toothpick stuck in the loaf comes out with a few crumbs stuck to it.
Remove from the pan and allow to cool (if you can wait that long)!
For best results..use full fat ice-cream!
Recipe source: 1001 ways to Cook Southern