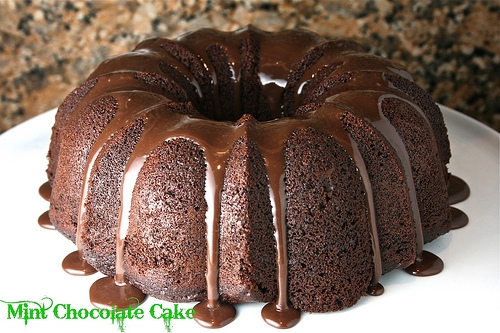 This is the glorious cake I teased about on FaceBook.
Are you following The Hungry Housewife On FaceBook yet? NO? Click HERE
There..all better.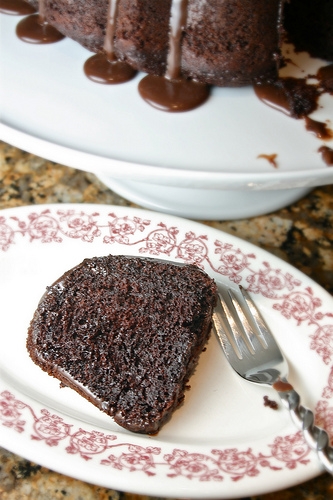 Geeze, I am having writing block. Work brain..work.
I had a bad week last week. Had to put Archie(my cat) to sleep and my daughter got bit by some sort of nasty spider. I will spare you the details..but it was the most disgusting thing I have had to deal with.
But this week is bound to be better, right?
I did do my first MAJOR cooking demonstration on Saturday at the Tampa Convention Center.
I was contracted by the USA Poultry and Egg Export Council to do a cooking demonstration for the Commodity Classic, a convention for farmers of soybeans, wheat, corn and sorghum. My demonstration was for 50 minutes, but it felt like 5 minutes. I had a blast and I hope it was not my last.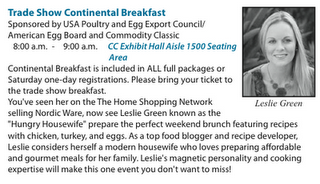 On to the cake. This is actually my 5 year old daughters cake. She came up with it(with a little help from me)
Cute huh? Gotta love kids.
CHOCOLATE MINT CAKE
1 box Devils Food Cake
1 3.4 oz box COOK and SERVE chocolate pudding mix
1/2 cup vegetable oil
4 eggs
1/2 cup coffee
1 cup sour cream
1 tsp vanilla
1/4 tsp Peppermint Extract
1 1/2 cup Andes Creme de Menthe Baking Chips*
Preheat oven to 350.
Spray a bundt pan with non-stick cooking spray.
In a large bowl, whisk together the cake mix and pudding mix.
Add the eggs, oil coffee, sour cream,vanilla and peppermint extract. With and electric mixer, mix on medium speed for about 3 minutes.
Stir in the Andes mints.
Pour into the prepared bundt pan and bake for 40-50 minutes, or until a tooth pick comes out with a few moist crumbs on it.
Remove from oven and allow to cool for 10 minutes in the pan. Invert onto a cooling rack and allow to completely cool.
MINT FUDGE ICING
1 14 oz can sweetened condensed milk
1/2 cup Andes Creme De Menthe Baking Chips**
1/2 cup Semi-Sweet Chocolate Chips
1/2 tsp vanilla extract
1/2 tsp peppermint extract
Put the Andes mints and the chocolate chips in a medium bowl.
In a small sauce pan over medium low heat, add the sweetened condensed milk and extracts.
Bring the mixture to just under a boil.
Pour the hot sweetened condensed milk over the mint and chocolate chips. Allow to sit for just a few minutes. Stir until the chocolate chips are completely melted.
Pour over the cake!
*Cake- if you can not find Andes Creme de Menthe Baking Chips, you can use 54 regular Andes Creme De Menthe mints. Just unwrap and chop. You would need TWO 6 oz packages. Use all 36 in the 1st package and 18 of the second package.
**Mint Fudge Icing- if you can not find Andes Creme de Menthe Baking Chips, use the remaining 18 mints. Unwrap and chop.