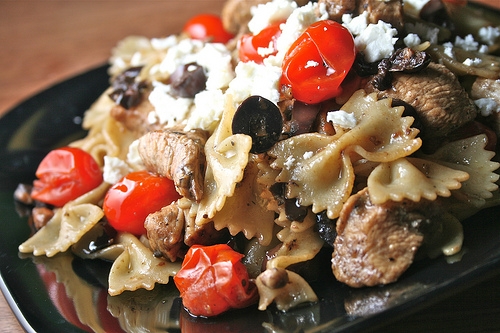 Please make this, pretty pretty please. It is am amazing chicken dinner with light but delicious flavors.
I have never cooked with kalamata olives before. Honestly, I did not even think that I liked them.
But for some reason I picked up a jar of them at the grocery store and that is how this dish was created.
I have NO CLUE about Greek flavors(sorry my friend Peter). However, I do know that oregano, olives, and feta cheese are used often. So those are the ingredients I used and it turned out soooo delish. Everyone in my family loved it. I did have to pick out the tomatoes and olives for my brats.
This dinner is all about "building the flavors" It wont be quite as tasty if you don't take the extra time to create the layers of flavors. Didn't read my last post about building flavors? Click HERE.
GREEK CHICKEN AND TOMATO PASTA
Serves 6
Printer Friendly Version

1 1/2 pounds boneless, skinless chicken breasts, cubed
1 1/2 Tbsp Balsamic Vinegar
3 oz Kalamata Olives, pitted and sliced
14.5 oz Box Farfalle Pasta (I use Barilla Plus), Cooked to package directions
3 tbsp Extra Virgin Olive oil
Large pinch Course Kosher Salt
3 1/2oz crumbled Feta Cheese
In a medium mixing bowl, mix the first 6 above ingredients together, cover and marinate for 30 minutes to 1 hour.
In a large saute pan(I use a 12″), over medium high heat, saute chicken until no longer pink, about 5-7 minutes. Remove from the pan, place in a large bowl and cover with foil to keep warm and set aside.
In the same pan,over medium heat, add the cherry tomatoes and saute until they start to burst. If the pan starts to dry out, add a bit of chicken stock or broth.
Add the garlic and olives when the tomatoes are almost done. Saute the garlic and olives for 1 more minute. Remove and place in the bowl with the chicken and set aside.
In the same skillet, over medium-high, add the 2 Tbsp of butter and 3 Tbsp Extra Virgin Olive Oil. Add the cooked pasta, salt and pepper. Saute the pasta for a few minutes, until some of the noodles look crispy.
Add the chicken and tomato mixture in with the noodles along with any juice that has accumulated Toss.
Sprinkle the feta cheese over the top and serve.