Don't forget to LIKE the Hungry Housewife on Facebook!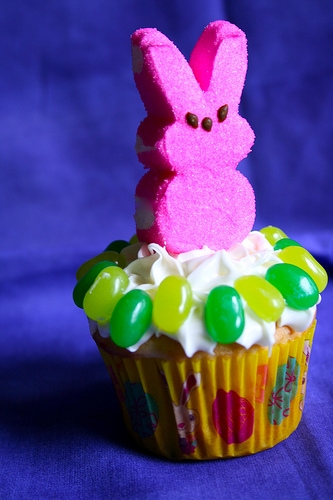 Here are some more adorable Spring Themed Cupcakes I created for Pillsbury.
Are you noticing a theme here??? SIMPLE. Nothing too complicated and totally kid friendly.
Bunny Garden Cupcakes
Makes 24 cupcakes

1 box Pillsbury Funfetti Cake mix
3 eggs
1 cup water
1/3 cup oil
24 cupcake wrappers
24 Bunny Shaped Marshmallows
240 (about) green jelly beans
1 can Pillsbury Easy Frost No Fuss Frosting in Vanilla Dream

Preheat the oven to 350.
In a medium bowl, mix the cake mix, oil, water and eggs together. Beat for 2 minutes until smooth.
Line a cupcake tin with cupcake liners. Fill each cupcake cavity up two thirds of the way.
Bake for 18-22 minutes.
Remove from the oven and allow to completely cool.
Swirl the top of the cupcake with the Pillsbury Easy Frost No Fuss Frosting.
Place green the green jelly beans around the edge of the cupcake.Top with bunny shaped marshmallow.