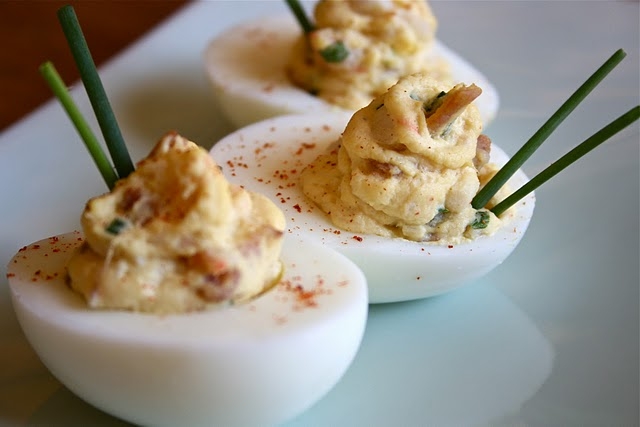 Ok, this is getting ridiculous, this whole blogging thing. 3 posts in 3 days? Did someone slip me a roofie? Quite possibly so.
Make these for the super bowl. Everyone will be sure to have a farting good time!
This is my jazzed up version of the plain ol deviled egg.
I was invited by the USA Poultry and Egg Export Council to do a live cooking demonstration at the Commodity Classic convention in March and had to come up with some egg and poultry recipes.
Anyway, the original version of these were much fancier. The had shrimp in them. Mmmmm. bacon and shrimp deviled eggs. UH-MAZING! I wrote the recipe and whipped up a batch. They were delicious.
My sister was going to a party the next day so I thought I would send them with her so her friends could be my guinea pigs. She called me the day after the party. She said, "I have bad news about the eggs,
not ONE person liked them." WHHAAAAA??? I didn't know how that could be possible. I literally licked the bowl clean and sucked it right from the piping bag(don't judge), they were that divine.
What could have gone wrong? She said they were WAAYYYY to fishy. Ahhh-haaaa. I figured it out. After sitting for a day, the shrimp flavor overwhelmed the delicate egg flavor. Damn it. So if you want, you can still make these with shrimp(about 6 large shrimp, chopped) but they must be eaten within a few hours. So for the convention, I am playing it safe and cutting the shrimp out.
BACON DEVILED EGGS
8 pieces of bacon cooked until crisp and crumbled
1/2 Tsp White Truffle Oil (optional if you can not find it)
2 Tbsp Chives, finely chopped
Small pinch of Cayenne Pepper
Chives cut into 1/2 inch pieces for garnish
Place the eggs on the counter and bring to room temperature, about 45 minutes.
In a medium pot cover the eggs with cold water going about 1" above the eggs.
Over high heat, bring the eggs to a rolling boil.
Cover the eggs and remove from heat.
Allow them to sit covered for 13 minutes.
Remove the eggs and submerge in an ice bath for 10 minutes.
Peel the eggs and slice them in half lengthwise .
Place the egg yolks in a medium bowl and put the egg white halves on a flat surface or  preferably a deviled egg tray.
Mash the egg yolks and add the bacon,mayo,mustard, truffle oil, chives, salt and cayenne pepper. Mix until nicely incorporated.
Place the egg mixture in a large zip top baggie. Snip a hole in the bottom and pipe the mixture into the egg whites. Garnish with the chives and a sprinkle of cayenne pepper if you wish.