I just want to show you a cut cake I recently made. One of my friends Cydnee(I dare not divulge her age) was having her annual themed Birthday/Bunco Party. This year she choose a Gasparilla Theme.
For those of you who don't know Gasparilla, it's a tradition here in Tampa. You can read all about it here.
It's a very cool story.
But what it really translates into is about 500,000 sloppy ass drunk people, lined up on Bayshore Blvd(the worlds largest continuos sidewalk, almost 4 miles) screaming, yelling and showing their tits to the old perverted drunk men people on the floats for beads. It's a sight to see. I mean, what people will do for a 5 cent strand of beads is amazing. Believe me, I have had my drunken nights at the parade. I was once even beat up by a man! Seriously beat up. Oh believe me, I kicked his ass right back(the first time I had ever hit anyone). There was no rhyme or reason for it. He just walked up to me and started beating on me like I was a punching bag! I am not white trash nor am I a skank-a-rank-a-saurus. He started it. Crazy, huh? Bastard. Good times.
On to the cake.
Cute. Just a regular yellow cake with the delectable Swiss Meringue Buttercream and Nutella Buttercream FIlling.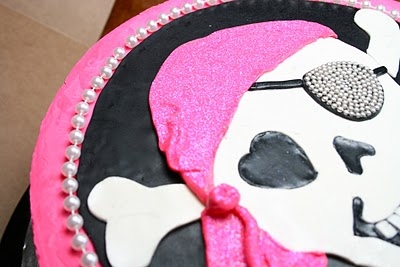 The cute skull and cross bones is fondant(sorry Dawn, no fondant video yet, quit your bitchin)
I added some Silver dragees on the eye patch for some bling and Pink disco dust on the bandana.
The morning of her party, I went to place the Skull onto the cake, lifted it up and it slipped right out of my hand and went crashing onto the floor. Broke in 6 pieces. The whole house looked at me in shock, eyes wide and mouths dropped open to the floor. You could tell they were waiting for me to unleash the fury. They stood there in fear. I said, "no one talk to me." I slowly walked away, into my bed room. I stood there, jumped up and down(like a two year old having a full on tantrum), screaming every curse word you could think of. I again slowly walked out of my bedroom, passed by my husband and two kids(still standing where they had been during the scene of the crime) who were still staring at me like I was going to kill someone. I carefully
picked up the sad, sad pieces of broken skull and cross bones and glued them back together. No one got hurt.