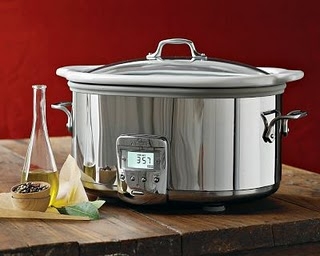 Purrrty ain't she?
Photo courtesy of Williams-Sonoma
CONTEST CLOSED AS OF 1-10-11 9 PM EST.
I go shopping at Williams-Sonoma and I end up buying something for one of my faithful readers. I am awesome, I know.
I am not one to be gushy, but I really do appreciate each and every one of you. You make blogging worth while. You all are all my virtual friends and I hope over the past almost 3 years I have been able to provide you with yummy recipes and given you a few chuckles.
So to celebrate the new year, I am giving away one All-Clad Slow Cooker, a retail value of $300. Again, awesome, I know. I have had mine for a few years and I love love love it.
Slow-Cookers are a kitchen electric that EVERYONE needs. Its the ultimate "fix it and forget it" kitchen gear. Perfect for bust weeknights or any night for that matter.
I do have a new rule. The winner HAS to contact me within 72 hours of me announcing the winner otherwise a new winner will be chosen or the product will be given away to a charity.
HOW TO ENTER
Just leave me a comment on something you would like me to change on my site. If nothing, you can just tell me I am perfect….a totally acceptable answer.
Extra entries…..
Leave another comment if you blogged about it, with a link to my site.
Leave another comment if you tweeted it, with a link to my site.
Leave another comment if you hollered about it on Facebook, with a link to my site.
Leave a comment if you are already a follower or subscriber.
Subscribe to my blog you get one more entry if you came back and leave a comment about it.(you must verify your subscription if subscribed via email)
So there, you have bunches of ways to get extra entries.
If posting anonymously, you must leave contact info.
Remember you MUST contact me within 72 hours to receive your gift.
Contest ends Monday January 10th at 9 pm est.
**Contest not sponsored by WIlliams Sonoma or All-Clad (although that would have been nice). This is my gift from ME to You!