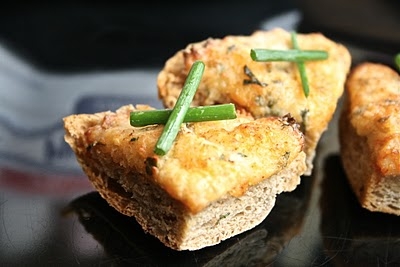 I thought I would be a responsible blogger and put a relevant post up for the Super Bowl Party you should be throwing. Being responsible is soooo overrated.
I created these delectable little crab appetizers for that Philly Cream Cheese contest I entered last year. And we all know the outcome of that. Blah-blah-blah-yadda-yadda-yadda. No hard feelings here.
CRABBIES
4 ounce(s) of Butter, softened
4 ounce(s) of Philadelphia Cream Cheese, softened
4 ounce(s) of Lump Crab Meat
1 tsp. of Cajun Seasoning
1 1/2 tsp. of Parsely
1 Garlic Clove, minced
1 Lemon, sliced in half
1 tsp. of Paprika
1 tsp. of Kosher Salt
3 English Muffins, split
6 Chive pieces, cut into 1/2″ pieces
Preheat your oven to 350.
In a medium bowl with a hand mixer, cream together butter and cream cheese until smooth.
Run your fingers thru the crab meat to make sure no shells remain and pour into bowl.
Add cajun seasoning.
Add parsley.
Add garlic.
Add the juice from 1/2 of the lemon.
Stir together with a spoon.
Place the English Muffins on a baking sheet(there will be 6 slices) and top with equal amounts of the crab mixture.
Spread evenly.
Sprinkle each piece with a small amount of paprika.
Quarter each English Muffin. You will have a total of 24 pieces.
Sprinkle each piece with a small amount of Kosher salt.
Bake on the middle rack for 30 minutes.
Remove from the oven and squeeze the remaining 1/2 lemon over the crabbies.
Top with two pieces of chives in a "x" pattern.
Enjoy!!!