Boy oh boy, do I have one delicious giveaway for you today.
Please play along and leave a comment for your chance, even if you have never left a comment here before. I know you all are out there!
It is courtesy of Tate's Bake Shop. Have you ever had a Tate's Bake Shop cookie?
Well let me tell you, I thought only big and chewy cookies had a place in my heart. I would snub the thin and crispy cookies on any cookie platter. I still might unless they are from Tate's.
They sent me 3 flavors..the same they will send one of you lucky peeps.
White Chocolate Chip Macadamia…Amazing in every sense. Thin, crispy and buttery. They almost melt in your mouth.
Chocolate Chip Cookies…Again, melt in your mouth buttery. Just the right amount of chocolate chips.
Oatmeal Raisin Cookies…These have a delightful chew and are the perfect oatmeal raisin cookie.
And along with the triple play of cookies they are going to send you their Cookbook.
I can honestly say, that I have not been in love with a cookbook in a long time. I have my old standbys like Joy of Cooking. But EVERY SINGLE recipe in the book looks amazing. I made the Cranberry Crumb Cake(I will post it when I announce the winner) and it was to die for. Would you think I was pathetic if I told you it was gone in 24 hours? (we didn't have any house guests). Sad I know. But it was that delicious!
To visit Tate's on Facebook, click here
So here is the deal..the Giveaway will end on Monday December 13th at 4 pm est.
The winner wins the cookies AND the cookbook.
Just leave me a comment telling me your favorite cookie.
Post on your blog.Get another entry by leaving another comment.
Tweet about this. Get another entry by leaving a comment on your Tweet.
Friend Tate's on Face book here. Come back and leave another comment that you "friended" them to get another entry.
The winner will be chosen by Random interger.org
You will win the triple box of cookies AND the Tate's Bake Shop Cookbook.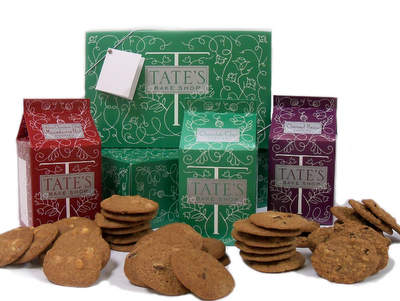 These tasty morsels can be yours.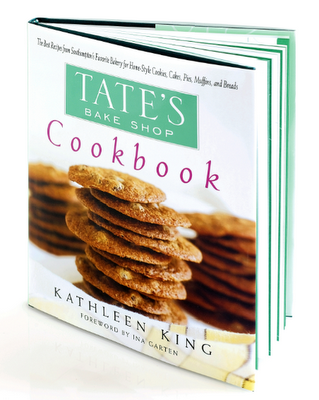 You can win this is well!
But don't fret, even if you don't win, you can still get 15% off any order at Tatesbakeshop.com. (valid until December 31st
Just use the code "cookie" at check out to get your 15% off! SWEET. There are some delectable goodies on their site that I am sure would make wonderful holiday gifts.
Contest open to US residents only. Tate's will ship directly to you.
Good luck to all of you.
*The fine print. I was provided with the cookies and cookbook for review. The opinions on this review are of my own.