-CONTEST CLOSED as of Monday Dec 20th.
I love you all! Each and everyone of you. So I bought you something. ( sorry just one of you)
I was at Williams-Sonoma and picked up a fancy dancy Ice Cream Maker.
The top rated(by Cooks Illustrated) Cuisinart Ice Cream Maker with extra freezer bowl, in RED.(value $110)
Think of all the yum-a-licios things you can make.
Come on and play, don't be shy. I wont bite, I swear. You can't win if you don't comment!
Consider it my Christmas(insert any other holiday) gift to you.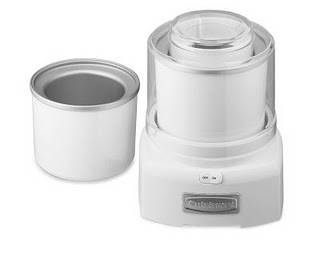 Cool extra freezer bowl included.
Ice cream topping and ice cream starter not included 🙁
Want it? Just leave me a comment..what's your favorite ice cream?
Extra entries……
Leave another comment if you blogged about it.
Leave another comment if you tweeted it.
Leave another comment if you Face Booked about it.
Contest ends Monday Dec 20th at 4 pm EST.
Contest open to US residents only. (hey I am cheap, and this thing is really heavy, shipping would be a fortune)
* this is NOT sponsored by Williams Sonoma or Cuisinart. The giveaway is courtesy of little ole me!