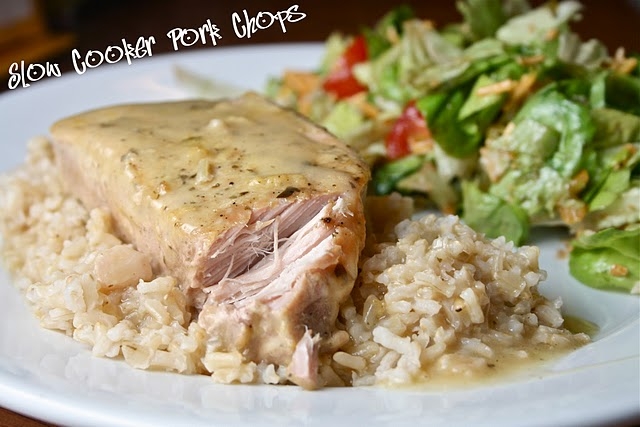 Ohhhh how I love my slow cooker. It's pretty and it shines. I could not live without it. I have a roast in it as we speak!
Let me tell you about these bad ass little pork chops. They are so delicious and packed with flavor. They literally fall apart. BONUS- takes less than 5 minutes to prep.
We all know kids are picky, right? Well my kids were begging for 2nd and thirds( I am NOT exaggerating).The night I made them, I emailed the recipe to my BFF Bobbi and she was shocked I used canned soup. I think canned soup totally has its place in the culinary world. A white trash culinary world it may be, but I am not predigest. I never said I WASNT white trash. Pftt, you should see my roots right now.
SLOW COOKER PORK CHOPS
Printer Friendly Version
4 thick cut pork chops (bone-in or boneless)
1 can Cream of Chicken Soup with herbs (or without herbs)
1 package Hidden Valley Dry Ranch Dressing Mix
4 cloves garlic, minced
1/4 cup white wine
1/4 cup chicken stock
Pepper
In a medium bowl, mix together cream of chicken soup, dry ranch mix, garlic, wine and chicken stock. Set aside.
Sprinkle pork chops with pepper (NO SALT..there is enough salt in the other ingredients)
Place the pork chops in the slow cooker.
Pour the soup mix over the pork chops.
Cover and cook on high for 4 hours or low for 6 to 7 hours.