Don't forget to enter my giveaway!
K..I am not really sure what the highlight of this post is…how freakin pretty this cake is or how devilishly delicious the frosting is.
Cake first.
The ruffle cake. Isn't it so pretty? Like really, really pretty? Feminine wedding cake pretty? It wasn't a wedding cake though, I made it for my husbands birthday. No, my husband is not a girly boy..in-fact he is the opposite, well except for the fact that he is a shoe and clothes whore..but we won't go there. I love you babe. He was VERY picky on what kind of cake he wanted. He wanted a yellow cake with 1/2 nutella filling and 1/2 strawberry filling . No people, not 1 layer filled with nutella and they second layer filled with strawberries. He wanted the cake filled half and half with the fillings side by side in the layers. FREAK.
Did I say I love you babe? But he didn't specify how he wanted it frosted. HA! I remember seeing the "ruffle cake" in a magazine somewhere, maybe in the Doctors office. I am pretty sure it was Martha Stewart. I googled "ruffle" cake and her site pops up so I assuming that is where I saw it.
Anyways, I loved it when I saw it and I was just waiting for the opportunity to make it.
So I thought I would use my husbands birthday cake as the guinea pig cake.
I think it is stunning. And it is soooo easy to do.
Put a thin crumb coat of icing on you cake, preferably swiss meringue buttercream(recipe below).
Fit your piping bag with a  medium sized petal tip (I'm pretty sure its a tip size #103). Fill the bag with icing.
Starting at the bottom of the cake while holding your piping bag vertically against the cake with the skinny part of the tip facing out, zig zag back and forth up the cake until you reach the top. Go all the way around the cake. EASY and FOOLPROOF, I promise!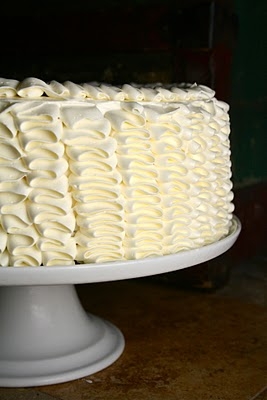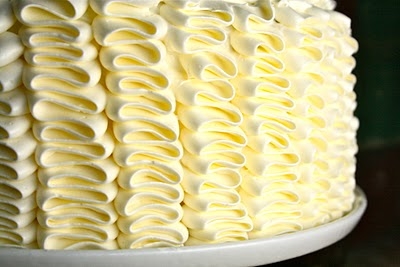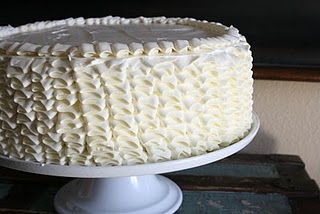 Have you had swiss meraginue buttercream? No? Oh my. I can not tell you how amazingly amazing(I swear I grad-e-ated high school) this frosting is. I am not sure why I have held off for so long in making it. Maybe it because I made 7 minute frosting before and didn't like it…too marshmallow-y. So I guess I associated any cooked frosting with the 7 minute frosting. But wait, maybe I associated 7 minute frosting with "seven minutes in heaven"..oh God..that's another episode.
But you MUST make this frosting. I mean look at the ingredients..2 pounds of butter. Are you kidding me? It is amazingly amazing..I said that already, didn't I? It's my new favorite.
A warning to people who live in the hot climate. With 2 pounds of butter, this heavenly frosting WILL NOT survive in the hot humid outdoors. I am sure it would melt right off your cake, but that's ok..just lick it right off the table.
SWISS MERINGUE BUTTERCREAM
Martha Stewart
2 1/2 cups sugar
10 large egg whites
2 pounds (8 sticks)UNSALTED butter, cut into pieces (DO NOT use salted butter)
2 tsp vanilla extract
Place sugar and egg white in a heat proof bowl over a pan of simmering water. Whisk until the sugar is dissolved in the egg whites and the temperature reaches 130°-140°.
Transfer the mixture to the bowl of an electric mixer. Using the whisk attachment, beat on high until the mixture has cooled and come to stiff peaks..about 10 minutes.
Add the butter, one piece at a time, mixing well between each addition.
Your frosting might start to look like cottage cheese at this point, but don't worry..it will come together.
Continue beating until smooth. add the vanilla and beat until incorporated.
Switch to paddle attachment, and whisk on low until all of the air pockets are removed and the frosting is smooth, about 5 minutes.
You can store this in an airtight container in the fridge for 3 days. Just bring up to room temperature before using and mix with the paddle attachment for a few minutes on low to ensure a smooth texture.