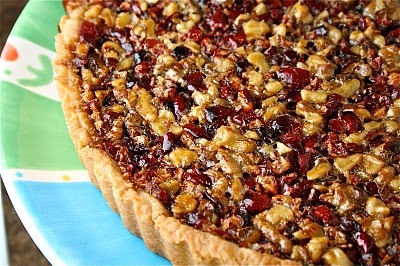 So by now we have all established that I am a slacker. I am ok with it, I really am.
All the cool bloggers have posted their awesome Thanksgiving spreads in advance.
Well, not me. Last year while preparing Thanksgiving, it did not even dawn on me to document my 3 day Thanksgiving cooking marathon. I will try to be more prepared this year to take pretty little photos, so next year you can come here in advance and get yummy recipes. K?
So in true slacker style, I am going to post a repeat dessert.
But you must make it for Thanksgiving, or just any-other random Thursday.
It is the Cranberry Walnut Tart. My husband says it is his favorite dessert of all times, and last year he about cried when I left the leftovers at my Moms house for Christmas.
Its easy and can be made a day in advance.
*on a side note, many of you have contacted me saying you are not able to print my recipes using the link I provide. I am sorry for this. Turns out my printable site has been "suspended" by Google for violation of terms of service". Hmmmm, not sure what that is all about. Maybe my site is more scandalous than I thought. I have contacted them, but have not had a response. So until I can get it figured out, you can just copy and paste the recipes from my site. Sorry for the inconvenience.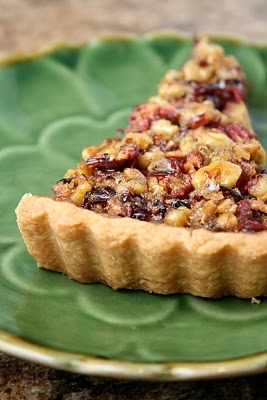 CRANBERRY WALNUT TART
Epicurious



SWEET PASTRY DOUGH
1 1/3 cups all-purpose flour
2 tablespoons sugar
1/4 teaspoon salt
1 stick (1/2 cup) cold unsalted butter, cut into 1/2-inch cubes
1 large egg yolk
1 1/2 tablespoons ice water
Whisk together flour, sugar, and salt in a large bowl. Blend in butter with your fingertips or a pastry blender until mixture resembles coarse meal with some small (roughly pea-size) butter lumps. Beat together yolk and water with a fork and stir into flour mixture until combined well.

Gently knead mixture in bowl with floured hands just until a dough forms. Turn out dough onto a lightly floured surface and knead gently 4 or 5 times more. Form dough into a ball, then flatten into a 5-inch disk. Chill, wrapped tightly in plastic wrap, at least 1 hour



TART

3 large eggs
2/3 cup packed dark brown sugar
2/3 cup light corn syrup
1/2 stick (1/4 cup) unsalted butter, melted and cooled
1/2 teaspoon salt
1 teaspoon vanilla
1 1/4 cups chopped fresh or frozen cranberries (7 oz; thawed if frozen)
1 cup chopped walnuts (1/4 pound)(TOASTED)

Special equipment: a 10- to 11-inch round tart pan (1 inch deep) with a removable bottom; pie weights or raw rice
Make shell:
Roll out dough into a 13-inch round (1/8 inch thick) on a floured surface with a floured rolling pin and fit into tart pan. Trim edge of dough, leaving a 1/2-inch overhang, then fold overhang inward and press against side of pan to reinforce edge. Lightly prick bottom of shell all over with a fork, then chill 30 minutes.

Put oven rack in lower third of oven and preheat oven to 425°F. Line shell with foil and fill with pie weights.

Bake until pastry is set and pale golden on rim, about 15 minutes. Carefully remove foil and weights and bake shell until pale golden all over, 5 to 10 minutes more. Transfer shell in pan to a rack.

Make filling:
Move oven rack to middle position and reduce oven temperature to 350°F.

Whisk together eggs, brown sugar, corn syrup, butter, salt, and vanilla in a bowl until smooth, then stir in cranberries and walnuts.

Pour filling into shell and bake tart until filling is set and golden, 40 to 45 minutes. (If pastry edge darkens before tart is done, cover edge with a pie shield or foil.) Cool completely in pan on rack.
Can be made one day in advance and stored covered at room temperature.