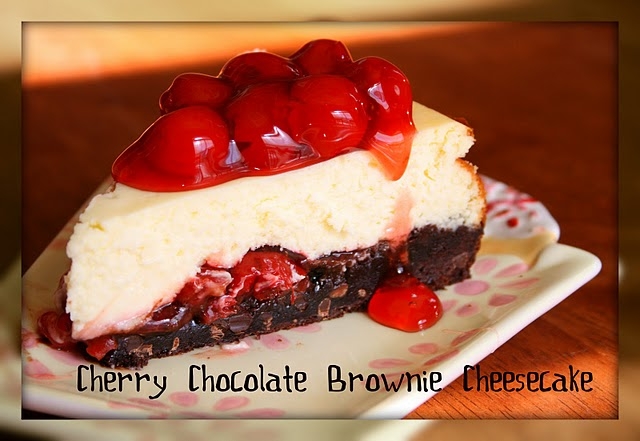 Oh yeah, I said it, Cherry.Chocolate.Brownie.Cheesecake! Evil, isn't it?
You see that brownie layer with the chocolate chips?
See the cherry filling INSIDE the cheesecake?
See the creamy cheesecake filling?
Feel free to wipe the drool from the corners of your mouth.
I'll wait right here while you go make this…hurry along now.
Your back? Delicious, yes?
The lovely folks over at Lucky Leaf sent me some pie fillings and recipes to review. One of them being cherry, my favorite ready made pie filling of all times. I had never used nor heard of Lucky Leaf before they contacted me. Their pie fillings don't have High Fructose Corn Syrup( oh wait, isn't it called corn sugar now???) in them which is a huge plus. They are truly delicious.
I know we are all going to be baking up a storm this holiday season, so don't forget to pick up some Lucky Leaf next time you go to the store. And visit their website…lots of yummy recipes!!!
CHERRY CHOCOLATE BROWNIE CHEESECAKE
Lucky Leaf
Printable recipe
1 8 oz brownie mix or 1 2/3 cup of brownie mix
4 eggs, divided
1 Tbsp. oil
1/2 cup mini semi sweet chocolate chips
3 8 oz packages cream cheese, softened
3/4 cup sugar
1 21-ounce can Lucky Leaf Premium Cherry Pie Filling
Frozen whipped topping, thawed for garnish (optional)
Preheat oven to 350 degrees. Coat a 9- inch sprinform pan with cooking spray: set aside. In a medium bowl, stir together brownie mix, one egg and oil until combined. Stir in chocolate chips.
Spread batter in prepared pan. Bake for 10-12 minutes or until brownie is set. (It will not be completely done at this point.) Meanwhile, in a large bowl, beat cream cheese and sugar on medium speed until well combined and smooth. Add in the remaining eggs on low speed and set the mixture aside. Carefully spoon 1/2 can )1 cup) of pie filling into center of brownie, leaving a 2- inch brownie border along side if pan. Carefully, pour cream cheese mixture over surface. Bake for 35-40 minutes or until the center is set, but jiggles when the pan is lightly tapped. Cool in pan on a wire rack for 1 hour. Cover and chill at least 4 hours before serving. Top cheesecake with remaining cherry pie filling. Garnish with optional whipped topping.
* note* When I made the recipe I doubled the brownie mixture for the bottom of the pan.
GIVEAWAY WINNER
I know the giveaway was supposed to be done at 9 PM. Sorry..life calls and I will be away from my computer at 9.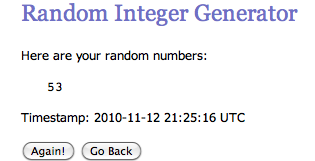 Congrats Lady Nann!
Please email me with your mailing info!!!!