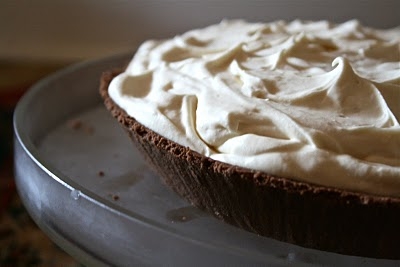 Does anyone really know what goes on behind the doors of a closed refrigerator? Do you think the eggs and the milk just have a plutonic relationship? Or how about the left over salsa and the cheese..do you think they silently stare at each other from across the dark, cool shelves? I mean, does the light even go off? Hmmmm? Well, I am hear to tell you that it is not so inocent when we close the fridge doors.
One night, after I had closed up the kitchen for the night, I put the kids to bed and slipped into a slumber. The next morning I woke up and made my necessary pot of coffee. I opened the fridge to get my creamer out and noticed something different, something very different. A dessert I had not seen before was in-front of me. Knowing very well my husband does not cook/bake and my kids had certainly not become culinary geniuses at the young ages of 5 and 7, there was only one explanation…. my fridge had become a literal red light district, a sexual underground if you will when the doors closed. Money was exchanged. Unspeakables happened. I dare not think of the dirty deeds that were done. This dessert is proof. Remember my
Mocha Tart
and my
Mini Pies
? Two totally separate desserts. Well until last night that is. I think the mocha tart was Mr. Suave and the poor mini pies were the unsuspecting victims. The courting that must have went on is mind blowing. Well I am glad my two desserts made happy sweet dessert love together. The result was heavenly.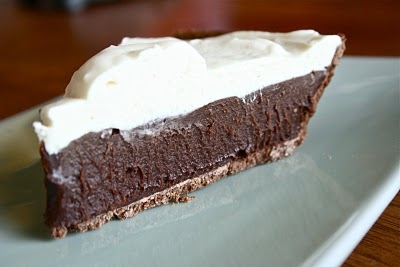 WHITE CHOCOLATE MOCHA PIE
1 Pre Made Chocolate Graham Cracker Pie Crust(or make your own)
4 Ounces of Philadelphia Cream Cheese, softened
3/4 cup Heavy Cream
1/4 cup Sugar
3/4 Tbsp Instant Espresso Powder
1 Bag Semi-Sweet Chocolate Chips
In a medium sauce pan over medium heat, melt cream cheese.
Whisk in the heavy cream and sugar.
Add in the instant espresso powder and mix until combined.
Bring mixture to just under a boil(bubbles will be forming around the edges)
Place the chocolate chips in a medium bowl.
Pour the hot cream mixture over the chocolate chips and let sit 5 minutes without stirring.
After 5 minutes, whisk the chocolate until smooth.
Pour into your pie crust and place in the refrigerator for a few hours or overnight until set.
This can be made several days in advance.
WHITE CHOCOLATE MOUSE TOPPING
1 cup heavy cream
4 oz cream cheese, mixed until smooth
3 Tbsp Sugar
4 oz White Chocolate, chopped
1 tsp vanilla
In a small saucepan, bring about 1 inch of water to a boil. Make a double boiler by placing a bowl on top on the saucepan with the boiling water so it fits snuggle over the top without touching the water.
Put the white chocolate in the bowl, and stir until completely melted. set aside.
In a medium bowl, combine the cream, sugar with an electric mixer and vanilla until it starts to thicken.
Add the softened cream cheese in 3 parts, mixing well in-between each addition.
Whip to a whip creamed consistency.
Fold in the melted chocolate.
Spoon onto the chilled pie and place in the refrigerator for 1 hour.