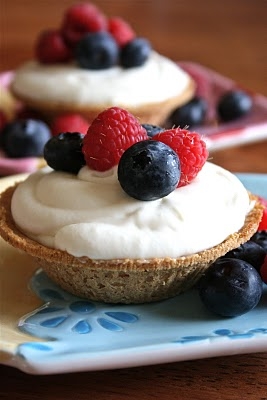 Ok..Ok. So I have renamed myself "Leslie the Loser". Yep, Leslie the Loser is my new name.
How lame am I? Seriously!? I have had ZERO motivation to blog or even really turn on my computer for that matter. I think some little anti blogger elf came in my room in the middle of the night and stole my blogging mojo. Little bastard. I have so many yummy recipes to share with you but have been too lazy to type them up. I have a pile of scrap papers with recipes scribbled on them that I need to type up anyway..so why not just blog about them? Cause I am a Loser..remember? A lazy looser at that! Wow, I am down on myself tonight aren't I? I am sure some of you have abandoned me. And I am sure you feel like I have abandoned you. I am sorry, I really am. I do enjoy sharing my food and I enjoy reading all of my favorite blogs too, but just not lately. Forgive me? I will try to be a better blogger.
Can I make it up to you with this heavenly little dessert? Please tell me I can. Bribes are good.
This is another one of my Philly Cream Cheese recipes. With another cheesy video to go along with it. It's funny at the end..remember along with being big fat looser, I am also a total dork.(the dorkness starts at about 6:49)
I am not sure to call these mini pies or tarts. But regardless, they are sooooooo good. And soooooo easy to make. Oh, and they are pretty as well. Just make sure you have plenty of people around to eat them up or you might eat 3 of them yourself. Trust me on this one. (cough-cough).
WHITE CHOCOLATE MINI PIES
6 pre-made mini graham cracker crusts
1 egg white, beaten
1 cup heavy cream
4 oz cream cheese, mixed until smooth
4 oz White Chocolate, chopped
1 tsp vanilla
6 Tbsp Nutella
Fresh Berries for garnish
Preheat oven to 375
Brush the graham cracker crusts with beaten egg white and bake for 5 minutes. Remove the
from oven and allow them to cool completely.
In a small saucepan, bring about 1 inch of water to a boil. Make a double boiler by placing a bowl on top on the saucepan with the boiling water so it fits snuggle over the top without touching the water.
Put the white chocolate in the bowl, and stir until completely melted. set aside.
In a medium bowl, combine the cream, sugar with an electric mixer and vanilla until it starts to thicken.
Add the softened cream cheese in 3 parts, mixing well in-between each addition.
Whip to a whip creamed consistency.
Fold in the melted chocolate.
Cover and place the chocolate, cream cheese mixture in the fridge for about one hour.
Place one tablespoon of the Nutella in each of the tarts.
Place the chocolate mixture in a zip lock bag, snip off the edge and pipe it into the mini pie shells.
Garnish with fresh berries.
Refrigerate until ready for serving.