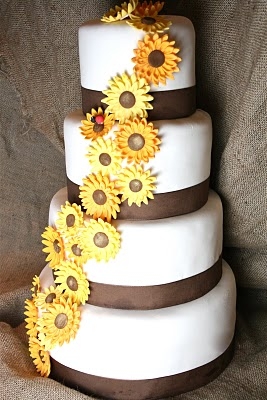 Ain't she purtty? This is my first wedding cake. My bother in-law and sweet fiance asked me if I would make their cake, I said yes..I was honored. Then the nerves set in. The sweaty palms began.
The cake was 2 tiers of chocolate with raspberry filling and 2 tiers of vanilla cake with strawberry filling, frosted with buttercream then covered in buttercream fondant. I was super pleased with the final product. I think I did a pretty damn good job, don't you?
I took some photos along the way.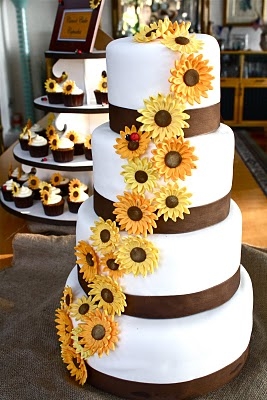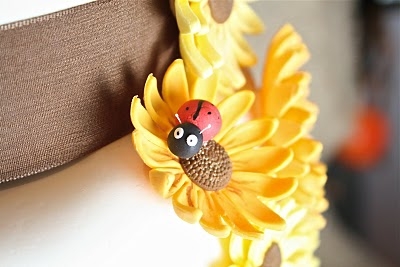 My sister-in-law, Megan loves lady bugs, so I placed just one lady bug on the cake. Too cute!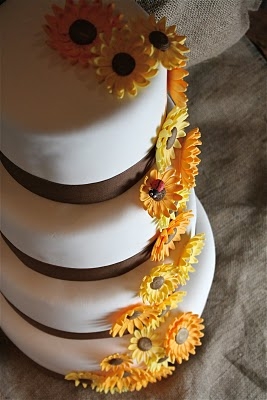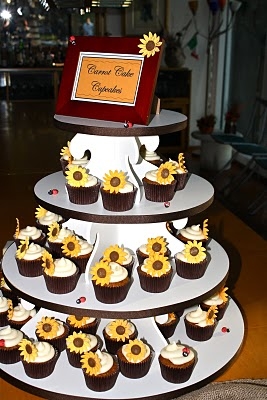 50 Carrot Cake cupcakes with Cream Cheese Frosting.
Me, looking oh so sexy. HA!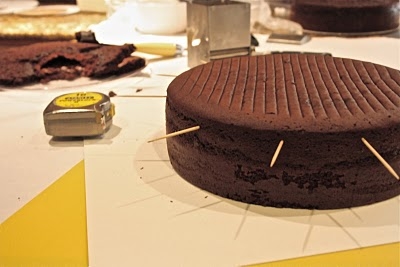 Above is how I level my cakes. Sure you can buy one of those fancy cake levelers, but honestly I get a better result with the toothpick method. Measure up the sides of your cake and figure out where your cake needs to be leveled off. Then place a toothpick in the spot. Then take the same measurement and place more toothpicks around the cake.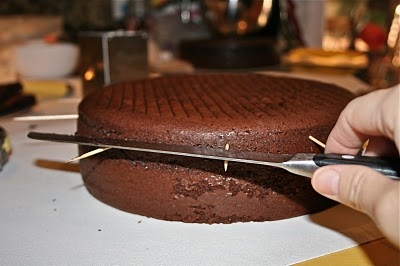 Then take your long serrated knife and cut he cake along the tops of the toothpicks. You will always get a perfectly level cake.
Ohhh yeah,my husbands favorite part..the scraps!!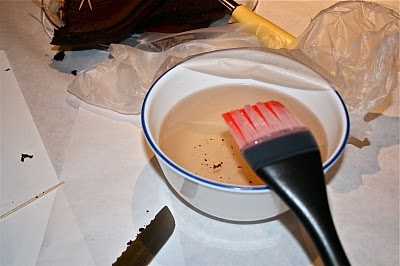 This is my secret to moist cakes…Simple Syrup. It's equal parts water and white sugar, melted in a saucepan until the sugar melts. You can add any flavorings you want, vanilla, almond, etc.
Brush it over your cakes, but not too much or it will be mushy.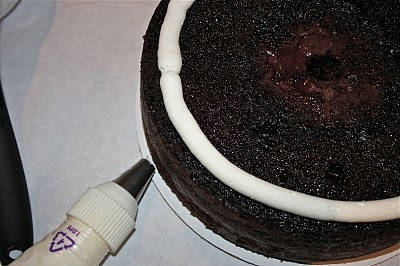 To fill a cake, always make sure you make a dam with your frosting about 1/4 inch from the sides of the cake. Making the dam insures that you filling does not leak out the side of your cake.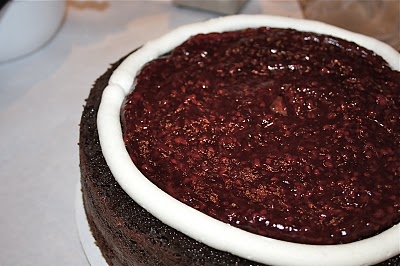 mmmm.delicious raspberry filling! No way it's sneaking out of the cake with that nice buttercream dam.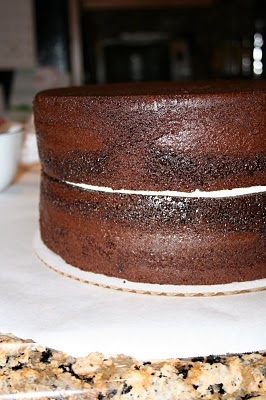 2 cakes meet for the first time. Love at first sight.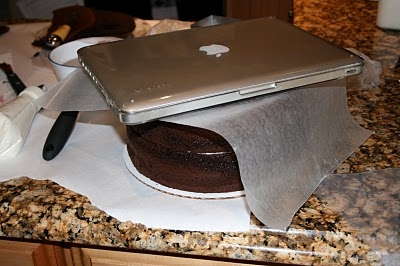 My MAC has other uses other than browsing food blogs. You see, when you do a larger cake with a filling and covered in fondant, sometimes there can be unsightly bulge on the side of the cake where the two cakes meet in the middle. So what I do to prevent this is, I assemble the cakes, and then place something a bit heavy on-top of them..to settle the cake and the frosting. I leave it there for an hour or so.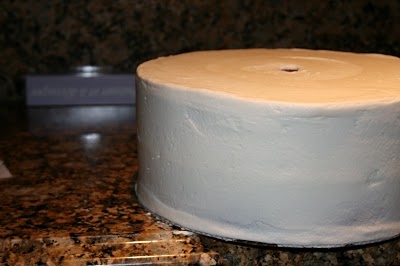 The crumb coat. Try to get your buttercream as smooth as possible. This honestly just takes practice. You need a nice big off-set spatula and a cup with warm water. After you get a thick coat of frosting on there, dip your spatula in the warm water and do your final smoothing on the buttercream. The warm spatula "melts" the buttercream, making it easier to smooth out.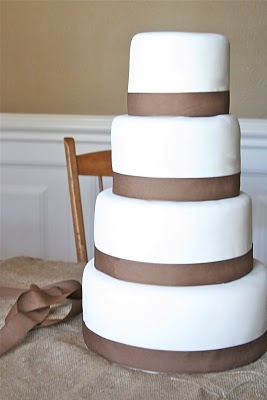 Here is the naked cake assembled. I wish I could have taken some photos during the fondant process, but you see, me and fondant have a love- hate relationship. I love love love the clean look it gives cakes, but I hate working with it. It honestly stresses me out. It is soooo temperamental..like a woman with PMS, you never know how it is going to behave.
At 2 feet tall, the cake was quite tall. I was terrified about the delivery, however I purchased a fancy cake support system from
Cake Stackers
that was a true life saver. The cake support system is a crazy contraption of metal plates and rods that holds the cakes together. No more cutting dowels and no more lopsided cakes.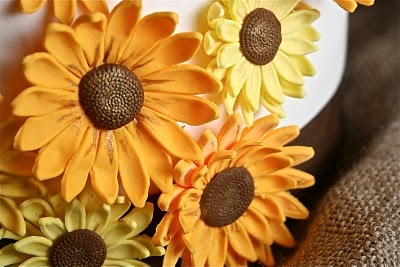 I made the sunflowers first, 102 of them(some were for the cupcakes). They are made of a mixture of 50% fondant and 50% gum paste and hand-painted with gold luster dust.
And I know some of you are going to ask..how long did it take to make??