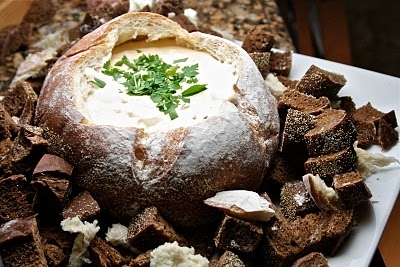 Football season is upon us. Men in tight uniforms running around, chasing a ball..nothing better right? Or for my male readers…Cheerleaders!
Football season for me equals good (but not good for you) food. I am going to try to be really good this year and not succumb to all the tailgating snacks.
I did want to share with you my most requested recipe at all of my parties. I am not sure if it is the most requested or the most expected..either way, it makes an appearance at any get together I have at my house. Make this the night before so all the yummy flavors can get all comfy cozy together!
16 oz Cream Cheese, softened
32 oz Velveeta Cheese, cubed
2 jars Old English Cheese
18 oz Dark Beer, stirred to remove bubbles (1 1/2 bottles of beer)
2 Loafs of Round Bread (not sliced)
1 Tbsp Parsley for garnish
In a large bowl with an electric mixer, mix cream cheese until smooth.
Add the two jars of Old English Cheese and incorporate with the cream cheese until smooth.
Add 1/2 of the cubed Velveeta Cheese into the cream cheese and mix until smooth.
Blend in the 3 cloves of garlic.
Blend in one bottle of beer.
Add the remaining Velveeta Cheese and blend.
Add in the remaining beer.
With the mixer on medium high, blend the cheese until smooth. Be sure to keep you beaters in the cheese mixture as much as possible to reduce the amount of air in the cheese. This will take about 5 minutes. You can add more beer if your dip is too thick.
To prepare the bread bowl, cut a lid out of one of the loafs of bread and remove.
Scoop out the bread out of the center of the bread to make a "bowl". Set that bread aside, you will use it to dip. Take care not to tear through the bread or your dip will leak through.
Take the other loaf of bread and cube it into 1″ cubes.
Pour the beer cheese into the bread bowl and arrange the cut up bread around the bowl.
Serve immediately or make up to 3 days in advance. Store leftovers in the fridge.
This was another one of my recipes that contained cream cheese that I submitted for the Real Women of Philadelphia contest. I obviously didn't win or y'all would have been the first to know.