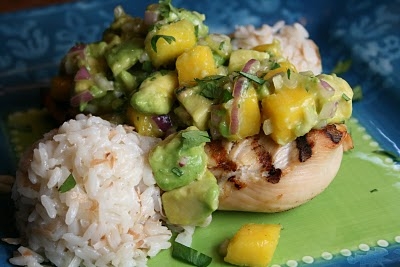 Nooooo I am not back..pretend this is a ghost writer. ( I should be back in 2-3 weeks)
I have been holding onto this recipe for a while now, but I only felt it was fair to share it with you while avocados and mangos were still in season so you could make it for yourself.
Everything about this meal is amazing and light. The avocado/mango salsa is out of this world. I used to just use it as a dip with chips. Honestly, it amazing right out of the bowl. Adding it over some citrus brined chicken breasts makes it even more heavenly. And let's not even get started with the coconut rice I made! This dinner will leave you full and happy but not stuffed and bloated. It is the perfect summer meal.
ISLAND CHICKEN WITH COCONUT RICE
Recipe and photo by The Hungry Housewife-Leslie Green
Serves 4
AVOCADO/MANGO SALSA
2 Mangos, cubed
2 Haas Acocados, cubed
1/2 Red Onion, finely diced
1 Tbsp Honey
Juice of 1/2 Lime
Juice of 1/2 Lemon
1 1/2-2 Tbsp Cilantro, finely chopped
Salt and Pepper to Taste
Mix all ingredients in a bowl, cover and set in fridge while you prepare the rest of the meal.
BRINE AND CHICKEN
1 1/2 pounds Boneless Skinless Chicken Breasts
3 cups Water
Zest of 2 Limes
Juice of 2 Limes
1/2 cup Kosher Salt
1/4 cup Honey
2 Tbsp Cumin
1/2 Tsp Red Pepper Flakes
Combine all of the ingredients in a bowl and stir until the salt is dissolved. Add the chicken into the brine, cover and pop into the fridge for 20 minutes.
Preheat grill.
Remove the chicken from the brine and rinse under water. Pat dry.
Grill the chicken for about 10 minutes on each side or until internal temperature reaches 170.
COCONUT RICE
1 cup White Rice
1 1/2 cups Coconut Milk
1/2 cup Water
2 Tbsp Butter
2- 2 1/2 Tbsp Sugar
1/2 cup Toasted Coconut
Pinch of Salt and Pepper
In a medium sauce pan with a tight fitting lid, combine water, coconut milk, rice, and butter. Bring to a boil, stir once. Cover, reduce heat and simmer for 15 minutes. Remove for heat and let stand covered for 5-10 minutes longer. Remove the lid and add the sugar, toasted coconut and salt and pepper