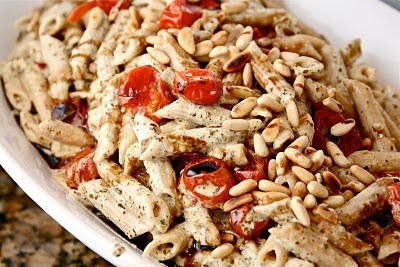 Not much to say today other than, you must make this quick little dish! This is one of those meals that also tastes wonderous while you stand in front of the fridge with the door wide open shoveling your face full of cold pasta the next day! Yum



*Please excuse the bullet points and the weird spacing. I just don't get HTML codes!
ROASTED TOMATO PESTO PHILLY PASTA
1 pound(s) of Pasta of choice

2 pound(s) of Pints, Grape Tomatoes

2 tbsp. of Olive Oil

1/2 cup(s) of Pine Nuts

2 tbsp. of Butter

3 Garlic Cloves, minced

8 ounce(s) of Prepared Basil Pesto

8 ounce(s) of Philadelphia Cream Cheese, softened

1/2 cup(s) of Parmigiano-Reggiano Cheese, shredded

1/2 cup(s) of Chicken or Vegetable Stock

1/4 cup(s) of Balsamic Glaze

Salt

Pepper
Preheat oven to 425.

Bring pasta water to boil and cook per package directions.

In a medium bowl toss the tomatoes with 2 tablespoons of olive oil, salt and pepper.

Line a baking sheet with foil and pour the tomatoes on to it.

Add the pine nuts into a small oven proof skillet.

Place the tomatoes and the pine nuts into the preheated oven.

Remove the pine nuts after 5 minutes and set aside.

In a large skillet, melt the butter.

Add the garlic to the butter and cook over medium heat for 1 minute.

Take your jar of pesto and pour off any excess oil. Pour into the skillet and mix.

Add the Philadelphia Cream Cheese and mix until it is smooth.

Stir in the Parmigiano-Reggiano Cheese.

Stir in the chicken or vegetable stock.

Add salt and pepper to taste.

Let sauce simmer over low heat for 5 minutes.

Drain the pasta and add it to the pan with the sauce.

Remove the tomatoes from the oven and toss with the pasta.

Pour into a serving dish

Top with the toasted Pine Nuts.

Finish the dish with a nice drizzle of Balsamic Glaze.

Enjoy!