Here is another one of my videos that I submitted for The Real Women of Philadelphia Contest! I know, you don't have to tell me, I am going to keep my day job. I am afraid that acting is not in my future!
If you don't get a chuckle out of this video, well then there is something wrong with you! I still laugh at myself when I watch it!
And the dessert….ROLL YOU EYES IN THE BACK OF YOUR HEAD GOOD!!!!!! You must make it! It is sooooooo easy!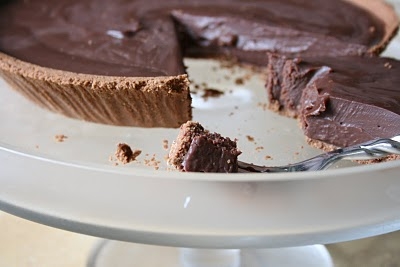 MOCHA TART/Pie
1 Pre Made Chocolate Graham Cracker Pie Crust(or make your own)
4 Ounces of Philadelphia Cream Cheese, softened
3/4 cup Heavy Cream
1/4 cup Sugar
3/4 Tbsp Instant Espresso Powder
1 Bag Semi-Sweet Chocolate Chips
In a medium sauce pan over medium heat, melt cream cheese.
Whisk in the heavy cream and sugar.
Add in the instant espresso powder and mix until combined.
Bring mixture to just under a boil(bubbles will be forming around the edges)
Place the chocolate chips in a medium bowl.
Pour the hot cream mixture over the chocolate chips and let sit 5 minutes without stirring.
After 5 minutes, whisk the chocolate until smooth.
Pour into your pie crust and place in the refrigerator for a few hours or overnight until set.
This can be made several days in advance.