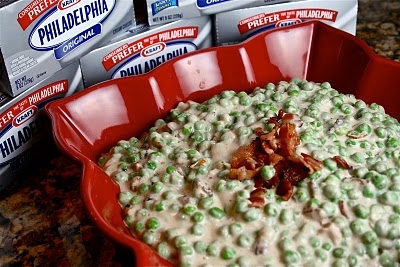 No, I have not abandoned my blog. And I am so very sorry I have not been very active. I have been in a bit of a feeling like ass slump. You know that kind of slump right? K, now that we have that cleared up. I present you a delicious recipe for some scrumptious peas via video.
This is a video I submitted for The Real Women of Philadelphia contest .
If you foodies haven't entered yet..get your video camera out and your Philly thinking hats on and enter the contest. It has been a blast. Each week I will post another video here on my blog so you cant see what an absolute dork I really am!
Leslie's Jumping For Joy Philly Peas
6 pieces of bacon, chopped
3 Shallots, thinly sliced
2 tbsp. of Butter
2 tbsp. of Flour
1 cup(s) of Chicken Stock
4 ounce(s) of Philadelphia Cream Cheese, Softened
1 pound(s) of Peas, frozen or Fresh
2 pinch of Salt
2 pinch of Pepper
Steps
Pre heat a large skillet over medium high heat.
Add bacon and sauté until crispy
Remove 1 tablespoon of the crispy bacon (as garnish) and set aside.
Add the sliced shallots and cook for 30 seconds
Add the butter and stir until melted.
Turn down the heat to medium.
Add the flour and cook it for 2 minutes, stirring continuously
Add the chicken stock and stir until a nice sauce forms
Add the Philadelphia Cream Cheese and stir until incorporated into sauce.
Add the peas and cook for 5 minutes.
Add salt and pepper to your liking.
Pour in serving dish and top with reserved bacon.
DIG IN!