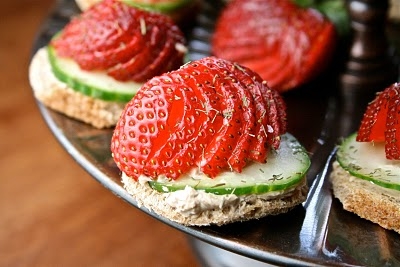 I am well aware that I am a dork. I have been one my whole life. I embrace it. I say off the wall things (I blame it on the blond hair) and often stick my foot in my mouth after saying something. I also get very excited about things that I am passionate about(as you will notice in my video).
Food being one of them. And these Tea Sandwiches that I came up with just got me going!!!!! They are amazing. I took the ordinary Cream cheese and cucumber tea sandwich and added sooooo much more flavor and dimension to them..they ARE OUT OF THIS WORLD ADDICTING! My husband raved about them and he hates cucumbers…so there you have it, cucumber hater approved!
PHILLY STRAWBERRY TEA SANDWICHES WITH A TWIST
8 Slices of Ultra Thin Sandwich Bread

4 ounce(s) of Philadelphia Cream Cheese, softened

3/4 tbsp. of Balsamic Glaze

1 English Cucumber

8 Strawberries

16 pinch of Kosher Salt

16 pinch of Dill, dried or fresh
In a medium bowl with a hand mixer, mix together the cream cheese and Balsamic Glaze until incorporated. Set aside.

With a 2 inch cookie cutter, cut two bread rounds out of each bread slice. You will have 16 bread rounds

Spread an equal amount of the Philly Cream cheese mixture on each bread round. About 1 to 1 1/2 teaspoons each.

Slice 16 thin pieces of cucumber.

Place the cucumber on top of the Philly cream cheese.

Cut the green tops from the strawberry. Slice the strawberry in half. Make thin slices in each strawberry half( do not cut through the back stem part). Apply gentle pressure to the rear of the strawberry to fan it out.

Place a dab of cream cheese on the underneath of the strawberry to serve as a glue. Place it on the cucumber.

Sprinkle each sandwich with kosher salt and dill.

Dig in!