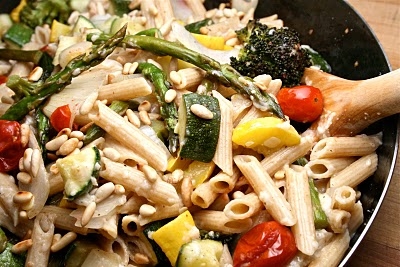 You want easy? CHECK
You want tasty? CHECK
You want fast? CHECK
Well then, it looks like I've got you covered..don't I? You can thank me after dinner!
Here is a yum-a-licious dinner that is easy ,tasty and with simple flavors.
My kids even at it. Well, they ate everything but the veggies..so I guess that means they just ate pasta. Oh well, I did my part as a Mom and put it all on their plate.
This is a perfect dinner for all you people who have green thumbs and have a crop of veggies that need eaten up. I personally have a black thumb, so I leave the veggie growing to the professionals.
ROASTED VEGETABLE PASTA
2 squash, cubed into bite sized pieces
2 zucchini, cubed into bite sized pieces
1 bunch broccoli, trimmed
1 bunch asparagus
1 onion, chopped into bite size pieces
2 cups cherry tomatoes
Olive Oil
Salt and Pepper
3 cloves garlic, minced
1 cup Parmigiano-Reggiano Cheese, shredded
1/2 to 3/4 cup pine nuts, toasted
1 box tube pasta like Penne, cooked per directions
Preheat oven to 425
To toast pine nuts, place pine nuts in a skillet and cook over medium heat for about 5 minutes stirring often. Watch carefully as they burn fast. Set aside.
In a large bowl, toss squash, zucchini, broccoli, asparagus, tomatoes and onion with enough olive oil to coat(about 2 tablespoons). Salt and pepper generously.
Pour veggies onto a foil lined (for easy clean up) baking sheet and roast for 35 minutes, stirring occasionally.
Place about 1 tablespoon olive oil in a large skillet over medium heat and sauté garlic for about 2 minutes. Toss in cooked pasta. Add the Parmigiano-Reggiano to the hot pasta and toss to coat. Add the vegetables to the pasta(and any veggie juice in pan) and toss in the pine nuts. Salt and pepper to taste.
Feel free to add some balsamic vinegar for some zing. But I preferred the simple flavors.