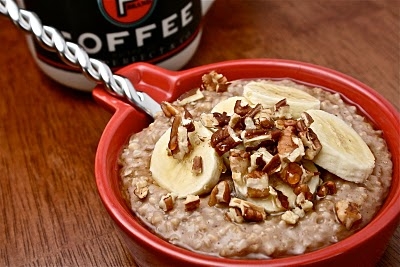 By now we all know that breakfast is the most important meal of the day, right? RIGHT?
Still I hear so many people say, "I never eat breakfast." Well if you are of of those people, well shame on you, you non breakfast eater you! Breakfast gets your brain going, breakfast gets your metabolism going and it totally helps you from gorging later in the day. Studies have been done y'all. So eat your breakfast.
I love love love oatmeal. It fills me up and it is super good for you. No, I am not talking about the pre packaged, pre flavored stuff. Sure that is what we grew up on. Make your own and control what is in it. Steel cut oats are my favorite. They have a delicious little chew to them, a totally different texture than regular oats. They do take about 20 minutes to cook. I know I don't have 20 minutes in my busy mornings to cook oatmeal. What I do is make a big batch at night, then pop it in the fridge. That way I have "instant" oatmeal every day during the week and just switch up the toppings.
STEEL CUT OATS
Enough for 1 person for 4-5 days
1 1/2 cup water
1 1/2 cup milk (I use skim or almond milk)
1 cup steel cut oats
pinch of salt
1 teaspoon cinnamon
5 packets of Splenda (or sugar)
Toasted Pecans, chopped (good way to get more protein)
Your choice of toppings..bananas, blueberries, strawberries (whatever is fresh and in season)
I also drizzle a bit of Agave Nectar over the top.
YUM-A-LICIOUS!
Bring the water, milk and salt to a boil. Add the oats. Cover, reduce heat to low and cook for 15-20 minutes. Make sure you stir occasionally.
Let cool for 5 minutes before serving.