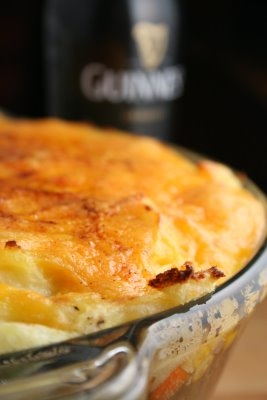 Remember I told you that I am in Lazy Town? Welp, still there. And just to show you how pathetically lazy I am about blogging these days, I am going to post a repeat recipe, even using old photos (GASP)!!! Ehhh, cut me a break, it's the first time I have done a repeat in 2 years.
My Shepherds Pie rocks the house, so I suppose it needs to be resurrected from the archives.
If I were a politically correct kinda girl, this would not be called "Shepherds" Pie. True "Shepherds" pie has lamb in it. My recipe uses ground beef, so I suppose it should be called "meat pie". Well "meat pie" just sounds foul to me, so I will be sticking to Shepherds Pie, thank you very much.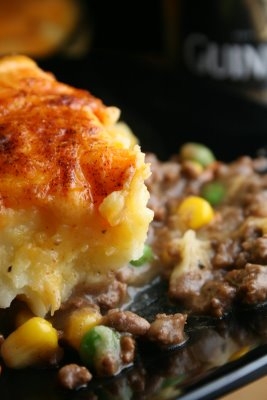 The Hungry Housewife's Guinness Shepherds Pie
Printer Friendly Version
1 ½ pounds Organic ground beef 80/20
1 (1lb) bag frozen mixed vegetables, thawed
2 packets of dry Brown Gravy Mix
1 medium onion
Olive Oil
2 bottles Guinness Beer
2 Tablespoons Tomato Paste
2 cups Sharp Cheddar Cheese
3 pounds baking potatoes
¼- ½ cup milk
1 stick butter
Salt and pepper
Preheat oven to 375
To make Potato filling…
Boil the potatoes in slated water until fork tender. Drain completely and place back in pot so all of the water evaporates.
In a medium mixing bowl add butter and potatoes. Mash until smooth, while adding the milk for a medium consistency. Add salt and pepper.
Meat filling…
Cook and drain ground beef.
Place drained beef back in skillet and add 1 bottle of Guinness. Cook until beer has almost cooked out.
Add tomato paste to meat
In a medium sauce pan, prepare the brown gravy according to package directions,
however, use beer for half the liquid called for( 1 cup water, 1 cup beer)
Pour gravy into meat mixture. And cook all together until you get a nice thick gravy.
In medium skillet with olive oil sauté onions until soft and translucent.
Add mixed vegetables to the onions and cook until warm throughout.
In a 2 quart baking dish, add meat as bottom layer, the add vegetables, and then add the mashed potatoes. Top with Shredded cheese.Cook at 375 for about 20 minutes or until cheese in nice and bubbly