Is that…?
Did she really…?
Oh no she didn't…?
OH YESSSSSS I DID.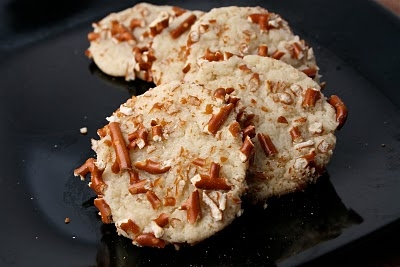 My mind works in funny little ways, funny, funny little ways.
You too can cure your PMS with these as I did.
This is how this recipe was created.
I was making sugar cookies from the box. Yep..you heard me correct, from the box.
I was out of flour and sugar, and you can't really make sugar cookies without those two vital ingredients. If you have a flour less- sugarless sugar cookie recipe..shoot me over the recipe!
Anyways..my kids were pestering me for sugar cookies and all I had was a box of old sugar cookie mix that was about to expire and all the kids really wanted to do anyways was roll them in the sprinkles.
So I mixed up the cookies per the package directions. Put them on the cookie sheet and then a light bulb went off!!!(doesn't happen often folks).
My daughter was eating Mr. Salty Pretzels(you know, the really salty ones). I grabbed a handful, crushed them up and rolled a few sugar cookies in them and baked them! Oh
Dawn
,
Aggie
and
Bridgett
you must make these my sugary-salty friends!
Dont knock it till ya try it my peeps! ohhhh..maybe drizzle some chocolate on top! HEAVEN
PRETZEL SUGAR COOKIES
Your favorite sugar cookies recipe
Crushed up Pretzels
Mix the sugar cookies per the package directions.
Roll them in crushed up pretzels.
Bake as you normally would!