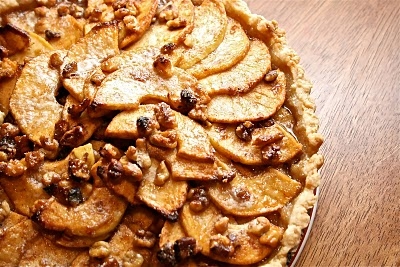 "HOW DO YOU LIKE THEM APPLES?"
Need a tissue? I saw you drooling. It's totally acceptable, as I did the same thing.
We had house guests and house guests ='s a perfect reason to make dessert. I wanted something other than a heavy cake, but didn't want to make anything complex. I had a butt load of apples that were never going to get eaten..so apple tart it was. I didn't follow a recipe, but I did make sure to write everything down, just incase it turned out good..and thank God I did, because it was Yummm-A-Licious! I did use the perfect go-to tart shell recipe from Epicurious that is No-Fail and always turns out perfect. I didnt have any ice cream to scoop on top, but I needed something "creamy". So I made some cream anglaise( sounds fancy, but its not) to pour over the top. Ummmm,YUM!!!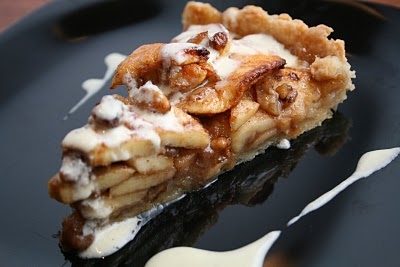 APPLE TART with CREAM ANGLAISE
SWEET PASTRY DOUGH
1 1/3 cups all-purpose flour
2 tablespoons sugar
1/4 teaspoon salt
1 stick (1/2 cup) cold unsalted butter, cut into 1/2-inch cubes
1 large egg yolk
1 1/2 tablespoons ice water
Whisk together flour, sugar, and salt in a large bowl. Blend in butter with your fingertips or a pastry blender until mixture resembles coarse meal with some small (roughly pea-size) butter lumps. Beat together yolk and water with a fork and stir into flour mixture until combined well.
Gently knead mixture in bowl with floured hands just until a dough forms. Turn out dough onto a lightly floured surface and knead gently 4 or 5 times more. Form dough into a ball, then flatten into a 5-inch disk. Chill, wrapped tightly in plastic wrap, at least 1 hour.
APPLE FILLING
5 Golden Delicious Apples
1 Tbsp Ground Cinnamon
5 Tbsp Brown Sugar
1/4 cup apricot preserves
1 cup walnuts, toasted
3/4 cup butter, cut up
Preheat oven to 375
In a large bowl mix together the cinnamon, sugar, preserves and walnuts.
Peel, core, cut in half and thinly slice the apples.
Toss the apples and layer them in circles around the tart shell.
Place the cut up butter on top of the apples.
Bake for about 50 minutes. If the nuts are getting to browned, you can place a piece of tinfoil lightly over the top
CREAM ANGLAISE
Food and Wine
2 cups whole milk
1 vanilla bean, split in half
1/2 cup sugar
4 large egg yolks, room temperature
Set a large fine strainer over a medium bowl and set the bowl in a larger bowl with ice water(you are making an ice water bath to stop the cooking process)
In a large sauce pan, combine the milk, vanilla pod and cook over moderately low heat just until small bubbles appear around the rim, about 5 minutes.
In another medium bowl, whisk the sugar and egg yolks until combined. Slowly, and I mean slowly(or you eggs will cook), whisk in half of the hot milk. Pour the mixture into the sauce pan and cook over moderate, stirring constantly with a wooden spoon, until the sauce has thickened slightly, about 4-5 minutes. DO NOT OVER COOK OR YOUR SAUCE WILL CURDLE!
Immediately strain the sauce into the bowl in the ice bath to stop it from cooking. Scrape the vanilla seed from the pod into the sauce. Serve warm or chill until ready to use.