I have seen the whole salt-crusting thing done with fish…done with meat etc. But I have never seen it done with potatoes. So when I came up with the idea the other night I thought I was a genius. But then there is this new thing called Google. You heard of it? It is a useful little tool on the world wide web that seems to know all the answers. If you don't want all of your hopes and dreams crushed about having a novel idea, then I do not recommend using the new found Google thing. Obviously (according to Mr. Google) salt-crusted potatoes is nothing new. Well hell, apparently I am not a genius after all.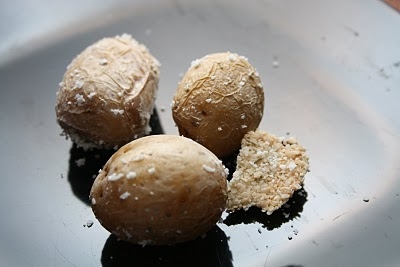 Wait A second..something doesn't look right…ahhh there..tossed in butter. Allllll better now!
These are amazingly delicious little spuds. Soooooo tender and fluffy!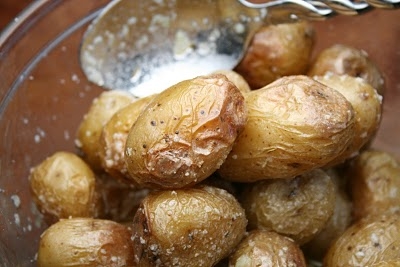 Salt-Crusted Potatoes
1 1/2 pounds Baby Potatoes
3 cups Kosher Salt
3 egg Whites
1 1/2 Tbsp Rosemary
1/2 Tbsp Thyme
1 Tbsp Whole Peppercorns
6 garlic cloves, peeled
4 Tbsp Butter, melted
Preheat oven to 400.
In a large bowl mix together salt,rosemary,thyme and peppercorns. Add egg whites and mix thoroughly.
In a 2 3/4 qt or other smaller baking dish, add the potatoes and garlic.
Dump the salt over the potatoes and pat firmly down. Make sure all of the potatoes are covered.
Bake uncovered for 1 hour.
The salt crust will be very hard. Use and ice pick and a hammer to break through it. Dig out the potatoes and dust off any excess salt.
Toss the potatoes in the melted butter to make them happy!