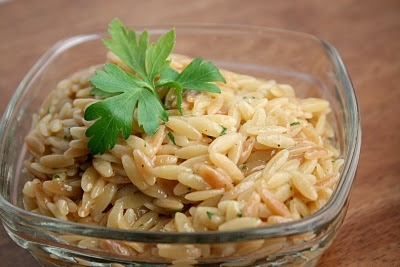 Sorry I am not dazzling you with something fancy and sweet and gooey and chewy. I would like to say I am watching my weight, but the only thing I was watching today was the HALF a bag of chocolate chips that I shoved in my mouth. And no, I can't use the excuse that they were healthy dark chocolate, full of anti-oxidants. Nooooo, they were Ghirardelli milk chocolate chocolate chips.!!! When I am PMS'ing, my cravings take over me like some sort of monster(and not the cute furry little monster variety). And don't you even try to interfere with my eating binge or you might leave with 4 less fingers! I have to watch what I eat all month long because of the damage I do in just one week. Am I alone in my PMS eating issues? Is anyone else a slave to their cravings just prior to Aunt Red visiting?
So needless to say, I got my chocolate fix today, so I am giving you a simple side dish.
One that my whole family devours when I make it.
If you are anything like me.. you struggle in the side dish department. It gets sooo monotonous.
Geen beans, corn, potatoes..blah blah blah..yada-yada-yada.
Back in the day, I used to think Orzo was rice (hangs head in shame). Any 18 year old would look at it and think it was rice..right? Its pasta people..PASTA.
PARMESAN ORZO
Recipe by The Hungry Housewife
3 Tbsp butter
8 oz Orzo
1 Clove garlic, minced
1 1/2 cups chicken stock
1/2 cup White Wine
1/2 cups Parmesan-Reggiano Cheese
2 Tbsp Fresh Parsley, chopped
Salt and Pepper
Melt butter in a pot with a lid over medium heat.
Add orzo and cook until some of the pieces turn golden brown.
Add garlic and cook for an additional one minute.
Add chicken stock and wine, bring to a boil.
Reduce heat, cover and simmer for 10 minutes. Stirring occasionally.
Remove from heat and stir in cheese, parsley, salt and pepper.