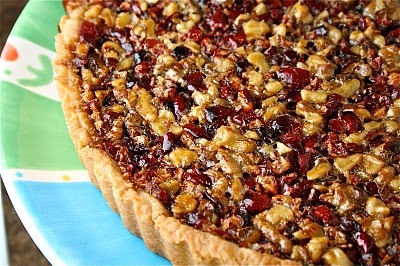 Oh wow..look at me, I am posting a recipe! I bet y'all thought I forgot how to cook. There has just been so many exciting things going on in my life, I hope you guys haven't minded me sharing them with you via my silly videos! (Oh, and I am on HSN again on Wed. Feb 10th between 6 and 7 pm , with an adorable Nordic Ware Brownie Bites Pan)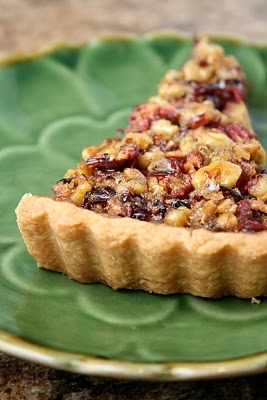 I made this heavenly little tart for Christmas…yes you heard me, Christmas. Ahh, cut me some slack I have been SUPER busy! Everyone was ohhh'ing and ahhh'ing over this. My husband said it was his favorite thing I have ever made. He about had a heart attack when I told my Mom I was leaving the leftovers with her.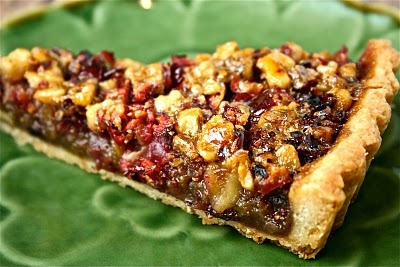 This little gem was sweet but not too sweet. The recipe called for Corn Syrup. But I prefer to use Lyles Golden Syrup(you can find it in British Grocery Stores or on line). Corn syrup is too Corn Syrup-y for me!!! lol
If you want to impress you guests and are tired of the same ol same ol desserts, MAKE THIS!!
CRANBERRY WALNUT TART
Epicurious
CRANBERRY WALNUT TART
Epicurious
SWEET PASTRY DOUGH
1 1/3 cups all-purpose flour
2 tablespoons sugar
1/4 teaspoon salt
1 stick (1/2 cup) cold unsalted butter, cut into 1/2-inch cubes
1 large egg yolk
1 1/2 tablespoons ice water
Whisk together flour, sugar, and salt in a large bowl. Blend in butter with your fingertips or a pastry blender until mixture resembles coarse meal with some small (roughly pea-size) butter lumps. Beat together yolk and water with a fork and stir into flour mixture until combined well.
Gently knead mixture in bowl with floured hands just until a dough forms. Turn out dough onto a lightly floured surface and knead gently 4 or 5 times more. Form dough into a ball, then flatten into a 5-inch disk. Chill, wrapped tightly in plastic wrap, at least 1 hour
TART
3 large eggs
2/3 cup packed dark brown sugar
2/3 cup light corn syrup
1/2 stick (1/4 cup) unsalted butter, melted and cooled
1/2 teaspoon salt
1 teaspoon vanilla
1 1/4 cups chopped fresh or frozen cranberries (7 oz; thawed if frozen)
1 cup chopped walnuts (1/4 pound)(TOASTED)
Special equipment: a 10- to 11-inch round tart pan (1 inch deep) with a removable bottom; pie weights or raw rice
Make shell:
Roll out dough into a 13-inch round (1/8 inch thick) on a floured surface with a floured rolling pin and fit into tart pan. Trim edge of dough, leaving a 1/2-inch overhang, then fold overhang inward and press against side of pan to reinforce edge. Lightly prick bottom of shell all over with a fork, then chill 30 minutes.
Put oven rack in lower third of oven and preheat oven to 425°F. Line shell with foil and fill with pie weights.
Bake until pastry is set and pale golden on rim, about 15 minutes. Carefully remove foil and weights and bake shell until pale golden all over, 5 to 10 minutes more. Transfer shell in pan to a rack.
Make filling:
Move oven rack to middle position and reduce oven temperature to 350°F.
Whisk together eggs, brown sugar, corn syrup, butter, salt, and vanilla in a bowl until smooth, then stir in cranberries and walnuts.
Pour filling into shell and bake tart until filling is set and golden, 40 to 45 minutes. (If pastry edge darkens before tart is done, cover edge with a pie shield or foil.) Cool completely in pan on rack.