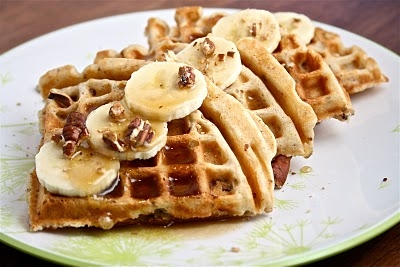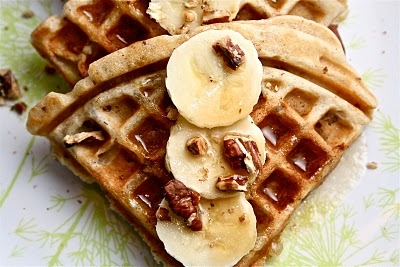 We do breakfast for dinner ALOT at my house! At least once a week. One might call it lazy, but I call it damn good. Breakfast during the week consists of a grab and go Slim Fast out the door and that is about it. Seriously, who has time on the weekdays to make a fancy homemade breakfast? Certainly not here. So I go all out for dinner..or should I say "Breakfast for Dinner".
Now I know I claim not to be a food snob, but the boxed pancake/waffle mix will just NOT do for me. Truly, there is nothing better than a homemade pancake or waffle. Trust me on this one.
It takes just 2 extra minutes to measure out the ingredients, but it is well worth it.
You have kids? Make an extra batch of waffles or pancakes, freeze them(with sheets of wax paper in between each one) and then you can pull them out of the freezer in the a.m. and they can have homemade waffles everyday! You do know there is an Eggo shortage, right? Whaaaaa? I am serious, read about it
here
.
And I also recommend a good waffle iron..this
one
rocks my world!!!
Shield your eyes from the 2 sticks of melted butter. But think of it this way, all the butter is baked in, so you don't have to put it on after the waffle is done. So you see, it is totally acceptable.
New dates for HSN– Monday Feb 22 at 5 am and 5 pm
Tuesday Mar 2nd 1am(yes am) and 8 pm
Selling this AWESOME Nordic Ware Brownie Bites Pan
BANANA BREAD WAFFLES
1 3/4 cups Flour
2 tsp Baking Powder
1 1/2 tbsp Sugar
1/2 tsp Salt
1/4 tsp Baking Soda
1 Tbsp Cinnamon
1 pinch of Freshly Grated Nutmeg
3 Eggs
2 sticks Butter, melted
1 1/2 cups Buttermilk
1/2 tbsp Vanilla
3 Ripe Bananas, chopped
1/2 cup Pecans, toasted and chopped
In a large bowl whisk first 7 ingredients together.
In a small bowl mix eggs, butter, buttermilk and vanilla. Add in bananas
Add the wet ingredients into the dry ingredients and stir..but don't over stir. It is good to have lumps. Fold in the pecans.
Cook according to your waffle iron directions.
Top with sliced bananas and chopped pecans if desired!