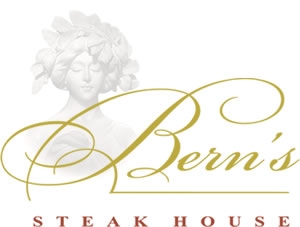 Have you even been so excited about food that you want to shout it from the top of a building?
Well, that is my feeling right now. And since people might look at me a bit strange if I did that, I will use my blog as my soapbox.
Last week was my 30th(
I mean 9th
) Wedding Anniversary to the best husband in the world.
We decided to go to a dinner. And no, I did not bring my camera, I didn't want to look like a tourist.
I am fortunate enough to live a few miles away from the World Famous
Bern's Steakhouse
. We have been to Bern's quite a few times, but this time was different. I can't really pinpoint what it was, maybe my taste buds have finally grown up and I have gone from eating food just to eat it..to eating food for the pure pleasure and experience of the different textures and tastes on my palate.
This was one of the best meals from start to finish I have ever eaten. Let me share it with you.
First let me tell you a bit about Bern's Steakhouse.
Bern's was opened in 1956 by Bern Laxer, it is now run by his son David Laxer.
They have served Presidents, Heads of States, countless celebrities, sports figures, etc.
Their wine selection is one of the largest in the world. The wine menu is 182 pages(phone book size). The on site wine cellar holds approximately 150,000 bottles of wine. And they store over a half million bottles off site. Some are dated from the 1700's.
Want to impress your guests? Order the 1851 Gruaud Larose, it will only set you back $10,000.
They don't go to the farmers market to get their veggies..they have their OWN farm. And yes it is organic.
After dinner, you have the option to go on a tour of the immaculate kitchen and the wine cellar.
If you are in the mood for dessert(and seriously, who isn't?) You don't eat it at your dinner table. You go to a upstairs to the dimly lit Harry Waugh Dessert room where you are seated in individual rooms that are truly romantic.
Thinking about getting a job there as a waiter? Not so fast buster. You have to work your way up and the process takes about 2 years. You must work through out the whole restaurant and then basically be on a waiting list to get to be a server. But like their food, even the wait staff must be the best of the best.
Now onto their menu.
There are so many words to describe their menu..grandiose, lavish, bountiful, luxurious..k..you get it?
You (like my husband) can be a bit unadventurous and get the Charcoal-Grilled Chicken Skewer appetizer(which were simple yet delicious) or you can go all out and get the Iranian Osctra Caviar for $220.oo.
With your dinner you get the works, French Onion Soup, Steak House Salad, Baked Potato, Steak House Onion Rings and vegetables.
The star is their aged US Prime steaks($29-$233) that are always cooked to perfection.
However if you are not in the steak mood, maybe try their 2-3 pound Lobsters(market price) or if you are really hungry you can get yourself a 5 pounder(with a 48 hour notice). I also hear through the grapevine that the Crisp Roasted Ducking( $35.90) is amazing.
If you would like to take a gander at their extensive menu, click here.
Now on to what my husband and I feasted on.
Appetizers
Michael had Charcoal-Grilled Chicken Skewers($9.95) they were simple and delicious, the way chicken should taste.
I had Foie Gras a la Plancha with truffle roasted wild mushrooms, toasted brioche, Napa Valley Merlot reduction($15.95). I know, I know PETA has a fit about Foie Gras but it was the best thing I have ever put in my mouth(seriously). I can't even explain the flavors and texture. It literally melted in my mouth. I will dream about it!
For salad dressing I choose Cabernet Sauvignon Vinaigrette and Michael had the Creamy White Balsamic Italian.
Entree
I went with the classic 8 oz filet($33.50) cooked medium rare.
Michael had the 10oz Delmonico($39.44) cooked medium.
Both of our steaks were cooked to perfection.
Along with all of the fixings, White Truffle Macaroni and Cheese($16.95) and Steak House Mushrooms ($6.95) were also brought to the table. I will also have dreams about the Mac and Cheese. The homemade pasta was cooked to a perfect al dente and the flavors were rich and full of depth.
Dessert
Now, if we were not full enough, I still insisted on going upstairs to the Harry Waugh Dessert Room.
I started my dessert experience with a Chocolate Cafe Con Leche Bern ($4.75).
Again, like everything else..the best coffee I have ever had.
To finish off the belly stretching evening, I feasted on the Granny Smith Apple Pie($8.95), a caramelized apple filling wrapped in a sweet sucree dough and served with a spiced cider reduction and cinnamon ice cream.
Michael had the Caramel Pecan Chocolate Bread Pudding ($9.50), Homemade brioche, toasted pecans and chocolate chips surrounded by a rich , creamy caramel custard. Served with vanilla anglaise.
Both were truly amazing, a perfect way to end the evening.
What is my only complaint? That my stomach wasn't larger.
There are many reason that Bern's is year in and year out among the top steakhouses in the world. From their extravagant and exaggerated decor, to their monumental wine offerings, to their "operating room clean" kitchen, to their boundless menu and their accomplished wait staff.
But don't take my word for it, eat there and see for yourself.
It is an experience for the eyes and the mouth!