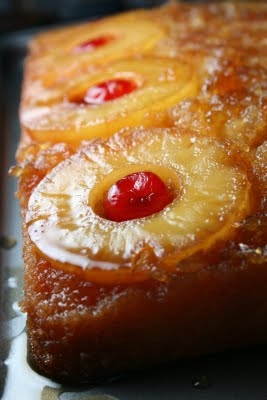 Confession…I use boxed cake mix (sometimes). It is a huge time saver.
Let me splain, I never use a cake mix "Un Doctored".
You have to add some extra stuff to a box cake to make it good and this Pineapple Upside-Down Cake is the perfect example.
Sure, Pineapple Upside-Down cake is nothing original but that doesn't discount the fact that that it is a delicious classic. Well, anything with melted butter and brown sugar as a topping is an instant classic to me.
PINEAPPLE UPSIDE-DOWN CAKE
1 box Duncan Hines Yellow Cake Mix
1 1/3 cup Pineapple Juice
1/3 cup Vegetable Oil
3 large Eggs
1 Tablespoon Vanilla
2/3 cup butter
1 2/3 cup brown sugar
1 (20 oz) can Sliced Pineapple
Maraschino Cherries
Preheat oven to 350.
In a small sauce pan melt the butter.
Pour the butter into into a 9 x 13 pan and sprinkle the brown sugar over the melted butter.
Arrange the pineapple slices in the pan in nice little neat rows. Add 1 cherry in the middle of each pineapple slice.
In a mixer bowl, mix cake mix, pineapple juice, oil, eggs and vanilla on medium speed for about 2 minutes.
Pour the cake batter into the pan over the pineapple.
Bake for 30-45 minutes or until a toothpick comes out clean.
Let cook in the pan for 5 minutes. Invert onto your serving dish.
DIG IN!