It's Thanksgiving night(not to thankful
now
for all the food I ate) and I sit here wishing I was able to stick my toothbrush down my throat to alleviate my bloated overstuffed stomach.
Yes, I ate
that
much! I mean you would think it was my last meal or something.
I have been on a short vacation up to Georgia to visit some of our close family friends(Thanks Bill and Becky)
Before I left, I knew one of my blogging friends lived in Georgia.
The Lovely Leslie from
Leslie Loves Veggies
.
She lived 1 hour away from where I was going to be so we met half way to have coffee and breakfast.
What happens when 2
bloggers
meet that happen to have the same name?
We yapped and yapped and yapped! Our breakfast lasted 3 hours. We had the best time. The funny thing is that we hardly talked about blogging. We spoke about family, childhood and just about everything else. We had a good old time, laughing and laughing. I am sure I snorted a few times(I tend to snort when I get to some hard laughing) And Leslie came with a cookbook for me. How sweet is that???? Thanks Les.
(me and Leslie)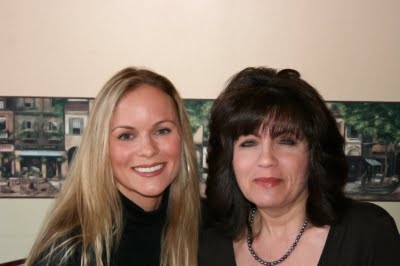 Leslie is just as sweet and genuine as she seems on her site and through her comments. Like a Mom everyone would like to call their own.
Want a chance to win some cool giveaways? Check out my friend Leslie's Site, Leslie Loves Veggies.
Thanks for meeting me Les! I can now call you a true friend!
hmmm…off to the bathroom to try my hand at the toothbrush again!!(I kid, I kid..or maybe not)